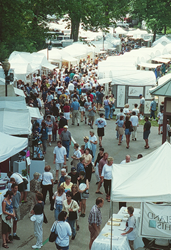 Cleveland Heights, Ohio (PRWEB) June 20, 2014
A feast for the eye—as well as the ear and the taste buds—waits at the Cain Park Arts Festival, which began in 1977 as an initiative of the late Audrey and Harvey Feinberg to bring high quality art and artists to the community in the beautiful relaxed setting of a park.
The 37th Annual Cain Park Arts Festival takes place July 11, 12 and 13 and features one hundred fifty exhibitors, all juried artists meticulously selected by a panel of art professionals and Arts Festival Director George Kozmon.
The Arts Festival FREE Parking Shuttle will be available on Saturday, July 12 from 10 am to 8 pm and on Sunday, July 13 from noon to 5 pm. Pick-up and drop-off will be at Cleveland Heights City Hall, located at 40 Severance Circle in Severance Town Center (Cleveland Heights 44118).
Friday's admission to the festival is FREE. Admission on Saturday and Sunday is $5 per person per day for those 13 years of age and older. Kids 12 years old and younger get in FREE all weekend! Click here for a preview of the art on exhibit.
The ALMA FAMILY CONCERTS on Saturday and Sunday will feature performances in the Alma Theater for kids of all ages. Chip and the Munks, featuring singer-songwriter Chip Richter with his band "The Munks," is a group dedicated to creating fun, smart, high energy music for all ages, promoting positive messages that connect with kids and adults alike. Join them Saturday, June 12, 12:30pm, 2pm, and 3:30pm for "more fun than a kid should be allowed to have!" Later, come and get 'spooned' with Jim Cruise (aka "The Spoon Man"), who describes this hilarious interactive comedy program for all ages as a spoonful of family fun. He's been playing the spoons for nearly 35 years and professionally for 23 years. His program contains several outrageous impressions such as Glenn Miller and Elvis combining together, a Heavy Metal Spoon Player and a Rap Spoon Player. There will be an audience sing-along competition and he'll create a Mountain Band comprised of audience members. He'll bring the family fun on Sunday, July 13 at 12:30pm, 2pm and 3:30pm.
Festival goers won't go hungry at the Arts Festival with a variety of gourmet concessions from area restaurants and caterers that appeal to many palates.
Let Them Entertain You!
7/11/14, Friday in the Evans Amphitheater:
Opening our series of Arts Festival concerts is The Outer Vibe, an emerging Grand Rapids-based pop-rock group. They will be taking the Evans stage from 3:30-5pm to perform powerful and original music inspired by the city of Detroit and infused with a positive message of perseverance and acceptance.
Friday in the Alma Theater:
Over at our Alma Theater, Charlie Mosbrook and Laura Joy will be performing shows starting at 4pm and 6pm. Voted Cleveland Scene Magazine's "Best Singer Songwriter" in 2011, Charlie Mosbrook is well known for his powerful baritone voice and emotionally-charged guitar technique. He will be joined by Chicago-based musician Laura Joy, who has been featured in several regional festivals and was awarded as a top finalist in the Broward Folk Club Songwriter Competition in Fort Lauderdale in 2013.
7/12/14, Saturday in the Evans Amphitheater:
Getting our Saturday performances off to a swingin' start is Red Light Roxy, a professional jazz band from Cleveland, Ohio that plays an energetic blend of jazz standards, jump blues, swing, boogie-woogie and old-school R&B. They will be performing favorites from the Great American Songbook from 12-2pm.
Next up is Dennis Chandler and the Stratophonics, a blues-rock group headed by Cleveland's own "musical chameleon" Dennis Chandler. He and his blues band, The Stratophonics, will be mixing musical education with entertainment at the Evans Amphitheater from 2:30-4:30pm.
From 5-7pm,Scarlet and the Harlots will be showcasing their unique blues-rock fusion music on the Evans stage. Made up of 8 talented musicians from Northeast Ohio, Scarlet and the Harlots will be mixing blues melodies with progressive rock harmonies, creating one unforgettable concert experience!
Closing out Saturday's concerts is multiple Grammy-winner Terrance Simien and the Zydeco Experience! Simien brings his brand of Bayou-inspired Creole Zydeco, a mélange of reggae rhythms, funk and Afro-Caribbean world music. Don't miss the chance to see this world-famous master of the accordion as he brings a bit of the Big Easy to Cain Park at 8 pm.
7/13/14, Sunday in the Evans Amphitheater:
Closing out this year's festival from 1-4pm is The Latin Jazz Project. Founded in 1997 by the late Roberto Ocasio, the Latin Jazz Project will perform a mixture of funk, fusion, salsa, mambo, and rhythm and blues music guaranteed to keep you moving all day long!
The Arts Festival is supported by Friends of Cain Park and Cuyahoga Arts & Culture.
Cain Park 2014 season sponsors include Cuyahoga Arts & Culture, Ohio Arts Council, Severance Town Center, Intercontinental Hotels – Cleveland, DoubleTree by Hilton Hotel Cleveland East Beachwood, and Motorcars Honda/Toyota/Scion.
Please note: due to limited space and crowded pathways, no courtesy vehicles will be in operation during the Arts Festival. No pets, bicycles, rollerblades or skateboards will be permitted at the Arts Festival.
Located on Lee and Superior Roads in Cleveland Heights (for online mapping: 14592 Superior Road, Cleveland Heights, Ohio 44118), Cain Park is a municipally owned and operated summer performing arts park. 2014 marks its 76th season. For more information regarding other Cain Park events, please visit http://www.cainpark.com