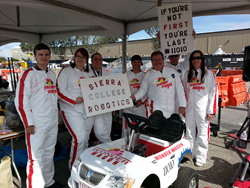 We believe that the community college system is the venue for making education relevant and engaging in this time of great change.
Rocklin, CA (PRWEB) June 19, 2014
President Barrack Obama has proclaimed Wednesday, June 18, the first ever National Day of Making. In response to President Obama's call to empower America's students and entrepreneurs to invent the future, Sierra College pledges to continue its support to train, inspire, and promote creativity and innovation in our classrooms, and throughout our community.
Sierra College teaches skills for future "Makers" in an open environment that promotes creativity and invention. Sierra has programs within its curriculum that integrate entrepreneurial endeavors into student's educational experience.
Mechatronics is a skill set that integrates mechanics, electronics, and computers. The two-year degree and certificate program is a gateway to a diverse range of exciting and rewarding careers.
The Mechatronics Robotics Club recently participated in the Maker's Faire in San Mateo, CA, which is sponsored by Make Magazine. This annual event has an attendance of over 80,000 people. The project for this year's Maker's Fair was to race a student-designed and built electric Barbie car. By being part of this event, Sierra College and the Mechatronics department was highlighted as an innovative, creative learning environment that is supportive of emerging technologies. Make Magazine interviewed the Sierra College Robotics Club team at the competition. The interview was posted on the front-page of their website and the video is on YouTube: entitled "Wonder Wagon" http://www.youtube.com/watch?v=6oowHDdHDec.
The Energy Technology Program is located within the Construction and Energy Technology Department. Currently the Sierra College Energy Technology Program offers three courses in photovoltaic (PV) installation. The first two courses focus on residential solar installation and provide students with the knowledge and skills to work in the solar industry as solar installers, sales persons and technicians. The third course (Advanced Photovoltaic Systems) also focuses on system design, off-grid and commercial systems.
The Sierra College Physics and Engineering Club along with the Energy Technology Program competed in the Northern California SMUD Solar Regatta at the Rancho Seco Recreational Area in Herald, CA on May 17, and came back to the Rocklin Campus the big winners of the event.
Sierra College Center for Applied Competitive Technologies (CACT) is focused on Advanced Manufacturing and is funded through the Workforce and Economic Development program of the California Community College Chancellor's Office. Since 1992, the Sierra College CACT has provided customized training for organizations, manufacturers and technology companies throughout Northern California. Through the STEM Collaborative, Sierra College works with middle and high schools to promote STEM Education and careers.
Through a partnership with Sierra College CACT, Sacramento Hacker Lab: http://hackerlab.org/ has a new 3D Printer. Hacker Lab offers an innovative work-space for entrepreneurs and "Makers."
Sierra College serves 3200 square miles of Northern CA with campuses in Roseville, Rocklin, Grass Valley, and Truckee. With approximately 125 degree and certificate programs, Sierra College is ranked first in Northern California (Sacramento north) for transfers to four year Universities, offers career/technical training, and classes for upgrading job skills. Sierra graduates can be found in businesses and industries throughout the region. More information at http://www.sierracollege.edu.