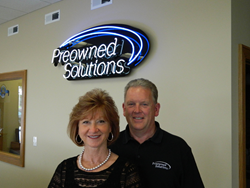 We are working "outside of the box," changing the way people thinking about and actually buy used cars.
Des Moines, Iowa (PRWEB) June 19, 2014
When Des Moines business woman Mary Lawyer bought her first used car from Tab Miller eight years ago, it wasn't just a transaction. It was the beginning of a relationship focused on her driving wants. She didn't find what she wanted on the lot but she's never looked back.
"In that time, I have traded three vehicles," Lawyer says. "And in each case, Tab has been wonderful to work with to determine which kind of vehicle was right for me. I like to have low miles and relatively newer model so I trade pretty often. He finds me a great deal. He'll scour the earth for the right vehicle for your needs."
It's Miller's customer-focused, education-based approach that is the basis of the used vehicle dealership he and his wife, Mona, founded less than three years ago. Preowned Solutions, located in Urbandale, helps customers find everything from that first car to boats and trailers.
"Between us, we knew there had to be a better way of helping customers with their vehicle needs," Miller says. "From financing to service after the sale, we believe in being with our customers every step of the way. Sometime they know what they want and like but don't know what vehicle would meet those needs the best. We are partners in meeting their needs."
"We took what we knew and the positive feedback from those customers and turned it into a one of a kind car buying experience," says Mona Miller, who worked in the banking business prior to joining her husband in opening the used vehicle business. "We are working "outside of the box," changing the way people thinking about and actually buy used cars."
The dealership itself is as unusual as the approach. The refurbished building Preowned Solutions calls home includes a relaxed atmosphere, living room type seating, a fireplace and yes, even a family dog. The couple employs two additional professionals.
Equally unusual is that a dealership as young as the Miller's would be recognized as the Iowa Independent Auto Dealers Association 2014 Quality Dealer of the Year. Miller started his automotive career in 1975 but he and his wife started Preowned Solutions in October 2011. An award decided by their peers, the Miller's recognition was garnered by admiration from customers, business people from the community, and some of the very dealers the Millers compete with for customers
Miller will represent the Iowa association at the National Independent Automobile Dealers Association convention in Las Vegas in June where he will compete with other state nominees for the national quality dealer of the year award.
Since first being awarded in 1976, the National Quality Dealer Award has come to embody all that it means to be a dealer who is committed to quality, excellence, outstanding customer service while making their community a better place for everyone. This award honors dealer nominees representing their state associations from across the country. The award has become more and more coveted because the standards and what it takes to achieve the award reaches new levels with each recipient selected.
"Just representing Iowa is an honor," Miller says. "But it also supports the excellence we believe can exist in the used vehicle industry and new options for consumers both here in Iowa and across the U.S."