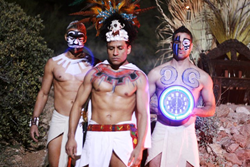 Los Angeles, California (PRWEB) June 26, 2014
"A Man Called Nereus," a new release Action/Comedy feature film by director Nathan Hill is taking full advantage of a new era in film distribution through iTunes and Amazon digital media outlets. Like most filmmakers the challenge of debut films getting distribution is filled with a steep learning curve. The lessons are many and the pitfalls can sink a film release. Ultimately, the movie has to have an appeal and stand on the quality of the story told to acquire solid reviews http://www.searchmytrash.com/movies/mancallednereus%282012%29.shtml and an audience being directed to a point of purchase.
The challenge has been embraced by Independent Filmmakers Nathan Hill and Keith R. Wilson of Armored Vision.
This fun Action/Comedy is in the early stage of reaching out to the world and is enjoying solid returns for the effort. "We made this movie "affordable to make it easy for the movie enthusiasts to enjoy." - Producer Keith Wilson
Being released to all English-speaking territories worldwide, a vast audience is enjoying this film, especially in Hong Kong and Australia. Make some popcorn and enjoy this internet sensation from a DIY Distributor.
iTunes Link: https://itunes.apple.com/us/movie/a-man-called-nereus/id836835257
Amazon Link http://www.amazon.com/s/ref=nb_sb_ss_fb_0_19?url=search-alias%3Daps&field-keywords=a+man+called+nereus&sprefix=A+man+called+nereus%2Cinstant-video%2C288