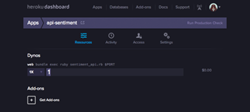 We have genuine focus on providing faster and easier ways to help API providers get to market and engage with their audiences.
San Francisco, CA (PRWEB) June 19, 2014
In its continuing efforts to ease the process of launching and operating an API, 3SCALE today announced the availability of the 3SCALE Heroku add-on to manage and secure APIs. Hosting APIs in a platform-as-a-service like Heroku is popular since it eliminates many infrastructure administration tasks and allows focus to remain on development. It is also an effective way to launch an API when it is unclear what the usage will be since Heroku can handle scaling your application server dynamically. In these cases, the 3SCALE add-on can easily be added to secure and manage APIs directly from the Heroku dashboard.
The add-on integration creates a 3SCALE account and provides a unique key to start using it in a matter of seconds. The API key is automatically configured as an environment variable inside the Heroku application, making integrating an API with 3SCALE frictionless. A management dashboard from where API plans can be set, developer keys configured and issued, and usage analytics extracted for all endpoints are included. The 3SCALE admin portal is just one click away from the Heroku application page. Following the add-on link will automatically log a user into 3SCALE re-using Heroku credentials. Read more on how to complete an API integration in the technical documentation for the 3SCALE add-on.
"We have genuine focus on providing faster and easier ways to help API providers get to market and engage with their audiences," said Steve Willmott, CEO of 3SCALE. "The introduction of the 3SCALE Heroku add-on eliminates many administrative tasks so you can publish APIs sooner and with less hassle on your way to accelerating in the API Economy."
The 3SCALE Heroku add-on is a perfect solution for companies who already have a Heroku account and want to bring their APIs to market quickly.
ABOUT 3SCALE
3SCALE provides a comprehensive API infrastructure that helps both API providers to easily package, distribute, manage and monetize APIs and users of APIs to interact with them in an easy way. 3SCALE's API Provider SaaS infrastructure is flexible, secure and web scalable, and enables the distribution of a company's data, content or services to multiple devices or mobile/web applications, as well as the ability to easily productize APIs. Since 2009, more than 100,000 developers are consuming more than 400 APIs exposed using 3SCALE. Customers span the Fortune 500, government, academia, and startups including Johnson Controls, SITA, Transport For London (TFL), UC Berkeley, Skype, Wine.com among others. For more information, visit http://www.3scale.net.
ABOUT Heroku
Heroku, a salesforce.com company has enabled hundreds of thousands of developers to build and run more than two million applications – all entirely in the cloud, without the need to purchase or maintain any servers or software. With support for the most popular languages, an enterprise class database service and an add-on ecosystem featuring the most innovative development tools, Heroku provides start-ups, IT organizations and agencies with a faster and more effective way to create and deploy apps. For more info, please visit http://heroku.com/.