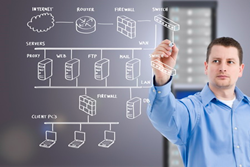 Burbank, CA (PRWEB) June 19, 2014
Business Insurance USA announced new commercial insurance options today, which provide comprehensive risk reductions for information and internet technology consultants within a competitive package. The new plans provide commercial level IT Consultant insurance protection that covers financial and legal expenses when accidents happen or when professional mistakes are made.
"An IT Consultant's clients rely heavily on their technological expertise," remarked Gary Fisher, Business Insurance USA's Executive Director, "and it's not unusual for there to be hundreds of thousands of dollars tied up in physical computers, or intellectual property. If the consultant makes even a slight error when providing services to those clients, it can result in big losses that the consultancy firm is ultimately responsible for. Our goal is to provide the necessary resources all IT consultants need in the event that an accident or error happens."
About General Liability
IT Consultant liability insurance provides peace of mind and protection against unexpected events that cause physical harm or other damages. General liability insurance is broad protection against general risks that arise with any type of business. If a client stumbles and falls while visiting the consultant's offices, for instance, general liability insurance pays for brief or longer term associated medical care needs. If a client sustains property damages due to work and services the consultant provides, liability insurance covers the repair or replacement costs needed to fix the damages. General liability can pay the consultant's legal expenses if needed, such as when allegations of advertising harm or slander arise.
About Professional Liability
IT consultant professional liability is also known as Errors and Omissions (E&O) insurance. When an IT specialist makes a professional error in judgment, it can cause their clients to lose a lot of money. The clients often attempt to recoup those losses by filing civil liability lawsuits against the IT Consultant. Professional liability insurance covers the associated legal costs while also paying for court ordered damages when the consultancy company is found to be at fault.
About Business Insurance USA
Business Insurance USA specializes in providing commercial insurance protection to businesses operating in a variety of industries. Insurance options for companies can be tailored to meet specific needs, and can include general liability coverage; a BOP, or business owners policy; business auto; professional liability (E&O); workers comp; and directors and officers insurance.
Business Insurance USA is headquartered in California, and offers comprehensive insurance options to small businesses nationwide.
For more information, visit http://www.businessinsuranceusa.com.