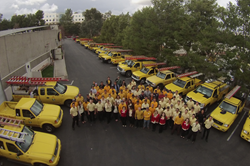 Sullivan Solar Power is what I refer to as a rags-to-riches American dream fairytale story.
San Diego, CA (PRWEB) June 18, 2014
Sullivan Solar Power, the top installer of solar energy systems in the San Diego Gas and Electric territory, according to California Solar Initiative data, celebrated its ten-year anniversary last week. The local company has been a bright spot in the San Diego economy, having installed more than 18.5 million watts of renewable energy. Despite the deepest recession since the great depression, Sullivan Solar Power has been growing by more than 50 percent each year, and is on a forward-moving trajectory.
"I started the company with very humble beginnings," said Daniel Sullivan, founder and president of Sullivan Solar Power.
Sullivan, a native San Diegan, started his company out of a customer's garage in Scripps Ranch with only $2,500 in the bank, a beat-up Ford Ranger and some tools. Today, the company employs more than 120 passionate individuals with a fleet of more than 55 vehicles. In the last three years, Sullivan Solar Power has expanded with regional offices in Orange County and the Inland Empire, in addition to a government affairs division out of the bay area.
Sullivan expects to close out 2014 with more than $27-million in sales. Approximately 60 percent of the company's business comes from residential work, and roughly 40 percent is commercial and municipal. The most recent large-scale projects in Sullivan Solar Power's portfolio include Camp Pendleton, San Diego State University, UC San Diego and the City of Chula Vista.
"Sullivan Solar Power is what I refer to as a rags-to-riches American dream fairytale story," said Erica Johnson, director of community relations at Sullivan Solar Power, who has worked for the company for five years, "Daniel Sullivan is an extraordinarily visionary man and has navigated this company to grow organically - from nothing into one of the largest solar integrators in the nation."
Sullivan has remained true to his values, and given back to the local community for the ten years the company has been in business. In the past year, the firm partnered with non-profit organization, GRID Alternatives, to donate one locally manufactured solar panel for each property owner that goes solar with Sullivan. It is expected that more than 90 low-income families will receive free solar as a result of this partnership.
Over the decade the company has been in business, a lot has changed in the market; financing options, legislation, incentives and policy are all very different from just a few years ago. The market is evolving at a steadfast rate. One thing is sure – the Southern California solar market has become saturated. While Sullivan recalls a handful of competitors five years ago, he notes that there are now more than 200 companies offering solar energy in the local market.
"Today, there are more solar companies entering and leaving the market than I can count. This is concerning," said Sullivan, "Not due to the competition, but because these companies that don't have the skillsets required to perform quality work have the potential to shed a black eye on the industry at-large."
Sullivan explained that it is crucial for homeowners to do their due diligence before moving forward with a solar investment that will be on their roof for more than 20 years. Having been one of the longest standing locally headquartered companies in Southern California, the firm expects their decade of solar experience to set them apart.
"The next ten years are sure to be bright for the solar industry," said Sullivan, "Our company is excited to continue growing and expanding – but mostly, we are honored to continue helping our region change the way that it generates electricity."
For additional information, call 1-800-SULLIVAN or visit http://www.SullivanSolarPower.com.
About Sullivan Solar Power
Sullivan Solar Power is a turnkey solar system provider that delivers solar electric projects from concept to completion. The company has installed over 18,500,000 watts of solar power ranging from small-scale residential to large-scale commercial and municipal systems. Sullivan Solar Power is headquartered in San Diego, CA and owned and operated by Dan Sullivan. Sullivan Solar Power has a longstanding A-plus rating with the Better Business Bureau, with no complaints filed since the business began. The firm has been named one of the fastest growing energy companies in the nation by Inc. Magazine for three consecutive years and services all of Southern California. Regardless of project size and scope, Sullivan is committed to delivering the best products and the most qualified professionals to its customers. Visit http://www.sullivansolarpower.com for more information.
###