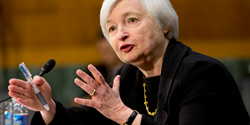 This news has serious implications for the housing market.
Chicago, IL (PRWEB) June 19, 2014
The Federal Reserve cut its 2014 outlook of the U.S. economy on Wednesday, June 18th during its monthly FOMC meeting. Lenders like Peoples Home Equity found this news particularly interesting in that the Federal Reserve also decided to continue tapering its quantitative easing policy (QE3).
According to a June 18th, Washington Post article, the U.S. Federal Reserve lowered its GDP growth estimate from 3% down to 2.1% to 2.3%. This change was disappointing for all Americans to hear, especially after seeing the economy contract by 1% in the first quarter of 2014. Also, the Federal Reserve decided, unanimously, to cut its quantitative easing policy by another $10 billion. This means the Federal Reserve will only commit $35 billion to its asset repurchase program (also known as QE3) for the next month rather than $45billion which it used last month. This combination of lowering GDP forecasts and cutting funding to the asset purchase program may sound contradictory given that QE3 has been a key driver of economic growth for the past 5 years. However, the Federal Reserve noted that the economy continues to improve year-to-date while the nation experiences scaling back of quantitative easing. On a positive note, the Federal Reserve still "kept its estimate of the rate of growth next year unchanged at 3 percent to 3.2 percent."
This news has serious implications for the housing market. The more the Federal Reserve cuts its asset repurchase program, the more the likelihood of higher interest rates and thus mortgage rates. In this case, home buyers are kind of fortunate to hear that growth expectations have been lowered. Lower growth may put a damper on the relentless rise in home prices over the past 2 years. Lower annual growth may also thwart higher mortgage rates regardless of Federal Reserve tapering. Only time will tell. Peoples Home Equity currently sees a housing market vulnerable to higher rates simply due to rising home prices and sales. Hence, it's better to lock in a competitive mortgage rate now than take a chance on higher rates in the future when the economy may be expected to do even better.
If interested in securing a competitive, lower rate mortgage, consider speaking with a Peoples Home Equity loan officer today details at: 262-563-4026