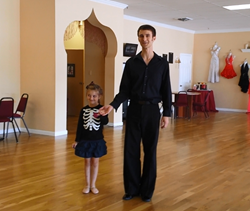 Performing is a fun part of dancing!
St. Louis, MO (PRWEB) June 23, 2014
It's a fact: children can have a hard time building positive self-esteem, but those who have a strong sense of self have a proper outlet to help express themselves. Dance Pizazz, the St. Louis area funnest, friendliest dance studio (http://www.dance-pizazz.com), recognizes the need for children, teens, and young people to unleash a new a skill-set. Ballroom dance can help them through these exciting, yet oft difficult years by:

Developing a talent which can considerably boost their confidence: Because dancing engages a child's mind and body, their concentration and learning ability improves exponentially. Several studies have shown that children and teens that have reported feeling an increased learning ability also reported an increased sense of self-assuredness.
Unleashing their inner leader: Children who are dedicated to an artistic or athletic pursuit are three-times more likely to become leaders than children who don't have a specific interest. Ballroom dance combines the best of both worlds -the artistic and athletic- and can help a child proudly cultivate a sense of civic and personal responsibility through fun, yet disciplined learning.
Having a better sense of social etiquette: Because dancing requires both verbal and non-verbal communication, a child learns to better express his or herself… and also listen. The enhancement of these skills has been directly linked to the social success of young people, due to their ability to navigate with ease through a variety of social situations.
Any parent wants to do what is best for their child and Dance Pizazz appreciates the importance of a strong, self-assured youth who can be comfortable in their own skin. Go to http://www.dance-pizazz.com to see how many young people have found a passion that is helping them be happier and healthier.