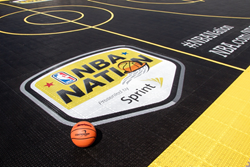 SnapSports surfaces are portable, high-performance courts, and the NBA is excited to partner with the brand for the 2014 NBA Nation Tour. - Patrick Sullivan, NBA Vice President of Events
Salt Lake City, UT (PRWEB) June 19, 2014
With the end of the 2014 NBA Playoffs, a new champion has been crowned and the off-season has begun. NBA fanatics know, however, that a summer of basketball is just getting started. Salt Lake City-based SnapSports® Athletic Floors and Courts has teamed up with the NBA for the eight-city NBA Nation Tour presented by Sprint. The tour, tipping off on June 21 in Washington D.C., will feature more than 20,000 square feet of fan-friendly interactive activities including play-on, custom SnapSports BounceBack® ShockTower® basketball courts chosen for their top ratings in durability and performance. SnapSports' partnership with the NBA began in early 2014 with their surfaces selected as the "Official Indoor Court" of the NBA All-Star Jam Session in New Orleans.
The NBA Nation Tour, previously titled NBA Rhythm 'n Rims, will be entering its 14th year of summer touring. Each NBA Nation event is free to the public and is hosted in high profile, high traffic locations, encouraging maximum attendance and exposure. The tour, including stops in Washington D.C., New York City, San Francisco and more, will spend two to four days in each city and is set to reach more than one million in attendance. Fans, families, and kids of all ages will get the chance to participate in interactive activities, watch high-flying professional dunk squads, and snag NBA player autographs throughout the duration of the event.
"When it comes to NBA fan events, quality, performance, and safety are key," said Patrick Sullivan, NBA vice president of events. "SnapSports surfaces are portable, high-performance courts, and the NBA is excited to partner with the brand for the 2014 NBA Nation Tour."
The 2014 NBA Nation Tour will travel with SnapSports multi-patented BounceBack ShockTower basketball courts. BounceBack ShockTower is the only modular sports surfacing featuring a built-in shock absorption technology engineered with player safety in mind. Sixteen individual shocks per square foot guarantee better joint protection while exhibiting the superior performance SnapSports surfacing is known for. With well over one million fans attending events, the NBA needed a durable, portable, and safe surface for the players and fans of all ages and skill levels. SnapSports is the top-rated, worldwide leader in modular sports flooring, catering to facilities, teams, and families alike. The same high-performance technology used by the NBA is seen in backyards and home gyms across the nation.
"As the premier men's professional basketball league in the world, the NBA demands the highest of standards," said SnapSports Chief Executive Office Jorgen Moller. "SnapSports is very proud to be recognized as the world's leader in performance sports surfacing and chosen as a partner for all of the NBA Nation Events around the globe."
About SnapSports®:
Based in Salt Lake City, Utah, the team at SnapSports® have been engineering, manufacturing, and providing the world's leading indoor and outdoor multi-courts, basketball courts and indoor sport surfaces for nearly four decades. As the pioneers of the modular sports surfacing industry you play on today, the SnapSports team continues to develop the most advanced, multi-patented, modular sport surfacing, indoor and outdoor game courts for top athletes and families all over the world. With unparalleled experience and a high performance product line, SnapSports is the industry's undisputed champion. SnapSports manufactures in their 150,000+ square foot ISO 9001:2008 Quality Certified facility and is supported by an authorized global network.
SnapSports® is the official sport surface provider for AAU 'Jam on It' Basketball, Official Court of NBA All Star Jam Sessions, the United States Futsal Federation (USFF Volleyball Festival, Special Olympics, Veteran Wheelchair Games, Colorado Crossroads, National Collegiate Roller Hockey Championships, AAU 'Big Mountain Jam' and USA Team Handball. In addition, SnapSports is an approved partner of the IHF and a FIBA Technical Partner, the world's governing body for the sport of basketball.