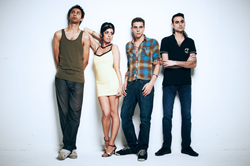 Keep your eyes open and ears peeled, this band is fresh on the SCENE with a unique sound molded from the roots of rock icons.
London (PRWEB UK) 20 June 2014
The son and daughter of Rock pioneer the late "Peter Bardens" are proud to introduce "Scene".
Sam and Tallulah Bardens are joined by Aaron Brown and Alessandro Salis. "Scene" are ready to unleash their unique, fresh music and sound to the world.
Scene's journey began in their West London studio, which is a converted "self storage" unit. They were featured on "BBC News, Sunday times & BBC Breakfast".
'Scene' is the brainchild of four young emerging music producers/songwriters.
Their futuristic sound, fused with bass driven beats, launched on the London circuit late summer 2013. With a high energy mix of heavy beats, lush guitars and big vocal hooks, garnished with eye watering visuals, they have made their growing fan base and industry leaders stand up and listen.
Back off their first run of London shows, Scene have spent the early months of 2014 working on their debut release.
Scene's music is a combination of radio friendly tracks, club heavy drops and festival pleasing anthems. Scene are set to release their DEBUT EP in late summer 2014 and have already sparked interest with many label heads and radio pluggers.
Members of Scene have calibrated & produced with major artists including Rita Ora, Finley Quaye, Bridget Kelly, Mrs D, Usg, K koke and various X Factor and The Voice contestants.
Lead guitarist Aaron Brown's sound has been featured on Radio 1, Choice and 1xtra, as well as SBTV, Radio King and Grime Daily.
Scene are hosting an exclusive, bespoke EP launch party at 93 Feet East, 150 Brick Lane, London E1 6QL.
Download a give away track, listen & watch the EP preview here or at http://www.sceneband.com
Keep your eyes open and ears peeled, this band is fresh on the Scene with a unique sound moulded from the roots of rock icons.
https://www.soundcloud.com/sceneband
https://www.youtube.com/sceneband