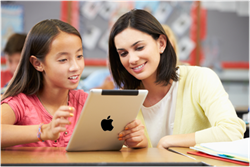 The Tabtor system is the most significant advancement in teaching math that I have experienced in my thirty-year career as a private tutor, said Lisa Yukelson, a highly successful private tutor.
Kendall Park, NJ (PRWEB) June 19, 2014
Tabtor Math, a leader in online learning solutions offered on tablets like iPad and soon to be available on Android, announces the launch of their new Tabtor Academy offering for teachers, moms, and others interested in starting or expanding their own tutoring business. This offering allows teachers, moms and others to work from home and be a part of the mission to eradicate the fear of math using the groundbreaking patent pending Tabtor's tutoring program.
The efficiency of the platform comes from the patented digital paper technology with analytics that track the journey of learning of each student, ability of teachers to personalize the assignments for each student, built-in tutorial videos that showcase different learning strategies suggested by Common Core Standards, and thousands of available assignments and the added ability to monitor students 24/7. In addition to using Tabtor's content, Tutors also have the flexibility to create their own content to use with their students. The efficiency and flexibility of the product provides the Tabtor Academy Math Tutor with the ability to quickly generate and grow revenues.
"The Tabtor system is the most significant advancement in teaching math that I have experienced in my thirty-year career as a private tutor" said Lisa Yukelson, a highly successful private tutor and the first Tabtor Academy Coach in Los Angeles, CA. She added, "Proof is demonstrated by noticeable improvements in grades and positive feedback from students and parents. Students greatly prefer using an iPad over the obsolete workbooks and worksheets used by traditional programs. As an instructor, I find the interactive platform far more efficient and personal, allowing me to better serve my clients. The ability to access the Tabtor platform from anywhere in the world, 24/7 reduces restrictions associated with the leading alternative math program. Tabtor allows me to monitor each student's progress and specifically control his or her advancement. Learning to implement and use the system is easy. The Tabtor support staff always responds promptly and effectively to all my requests for assistance. This is the math program teachers have dreamed of for years."
Jim Connor, CEO of First Focus Learning Centers in California and an early stage investor added, "We have seen Tabtor contribute enormously to the abilities of our tutors to personalize math teaching and achieve consistently good learning outcomes. The Tabtor system allows a student to progress at their own pace and for a teacher to follow the results. Tabtor's learning platform now makes it very easy to reach many students efficiently and still maintain the one to one personalization that is needed for each student."
Raj Valli, CEO of Tabtor stated, "We have proven that we are very successful in enabling consistent student learning outcomes, in both our consumer business as well as the offerings we have through schools. We are very happy to expand the availability of Tabtor through our Tabtor Academies in residential communities starting today. It not only enables local talent in residential communities to join us in our mission to enhance student math performance, we are also making it easier for people to start their own business using the Tabtor's Personalized Learning Platform on tablet computers."
The Tabtor Math platform is currently available on iPads for students from Kindergarten to Sixth Grade and will include grades 7 and 8 math starting this Fall. A version on Android tablets is expected later this summer in addition to the introduction of a Common Core aligned reading program.
Anyone who wants to start a tutoring service in their residential community is eligible to participate in the highly selective program. Ideal candidates include moms, current tutors, substitute teachers and any entrepreneur looking to start a tutoring business. Anyone can sign up for an information session or webinar at http://info.tabtor.com/tabtor-academy.
About Tabtor
Tabtor is a flagship educational technology platform from PrazAs Learning Inc and is designed to completely transform the way the world looks at learning. The platform provides teachers and students with a highly personalized learning experience, which focuses on the Point of Learning for each student. Currently available on iPads and soon to be available on Android tablets, Tabtor is an innovative digital offering that combines best of personalized teaching with a fun and engaging learning program that supports multiple subjects. It is tailored to every student using a combination of patent-pending Digital-paper technology that allows sharing and review of handwritten work, automatic grading, video tutorials and adaptive analytics. For additional information, visit: http://www.Tabtor.com/