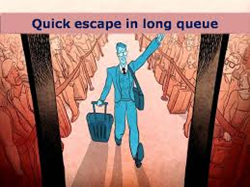 Thanks to the car pickup service, travelers can avoid being treated by bad taxi drivers
Hanoi, Vietnam (PRWEB) June 21, 2014
Vietnamvisa.org has been operating by Smile Travel Vietnam agency since 2008.The site provides Vietnam visas on arrival for travelers all over the world. In order to bring a more convenient service for customers, it offers 2 Extra Services Extra Services : Fast track and car pick-up services.
The fast track service is divided into two kinds: normal and VIP ones.
The normal service:
The staff will wait for travelers at the "Landing visa" gate with a welcome board. Then, they will help passengers have their passport stamped in a short time at the special area for Diplomatic passport holders.
The VIP service:
The staff will pick up travelers at the "Landing visa" gate with a welcome board. Then, passengers will stand at the private line. Customers will get their passport back with Vietnam Visa stamped from the staff. Furthermore, the staff helps passengers collect their luggage.
Furthermore, Smile Travel Vietnam now provides a car pickup service for travelers. "Everything seems to be strange for travelers when they first step in a foreign country although they have much information about it via books, magazine and TV," said the Chief Executive. "Thanks to the car pickup service, travelers can avoid being treated by bad taxi drivers" added he.
In brief, both of the above extra services bring convenience for customers after they apply for a visa on arrival. These allow tourists to save valuable time when arriving in a new land.
About Smile Travel Vietnam
The travel agency makes reservations and bookings for travel services such as flights, hotels, Vietnam tours, visas and rental cars. It also helps individual travelers to plan the itineraries they want, just as they would plan themselves, but with help to answer questions, anticipate and avoid problems in Vietnam.