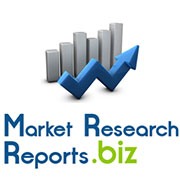 China Yeast Industry Report,2014-2017
(PRWEB) June 20, 2014
During 2004-2013, China saw a continuous rise in yeast output, with a CAGR of 10.7%. Yeast is used mainly in bakery food, wine brewage, feed and other fields.
Given the fact that the demand for bakery food, wine brewing and feed continues to grow, we project that in 2014-2017 the demand for yeast from the said industries will present a steady growth. Additionally, as people pay much more attention to food safety, Yeast extracts will become the driving force in raising the yeast demand. However, restricted by the raw material supply, China's yeast output will grow by a small margin, with an estimated CAGR of around 4%.
Browse Full Repor twith Toc:
http://www.marketresearchreports.biz/analysis-details/china-yeast-industry-report2014-2017
Like the global market, China's yeast industry is dominated by oligarch companies, such as Angel Yeast, AB Mauri, Lesaffre and Biosunkeen. And the total capacity of the four yeast manufacturers accounted for more than 80% of the national total in China. As of May 2014, Angel Yeast had a capacity of 160 kt of Yeast and 41 kt of yeast extract, making it the largest supplier in China. AB MAURI owned a capacity of more than 50 kt of yeast in China, LESAFFRE close to 30kt of yeast and Biosunkeen approximately 20kt.
Table of Content
1 Overview of Yeast Industry
1.1 Brief Introduction
1.2 Main Yeast Products in China
1.3 Production Cost Structure
To Download Full Report With Toc: http://www.marketresearchreports.biz/sample/sample/207651
2. Development of Yeast Industry in China
2.1 Output
2.2 Competitive Environment
2.3 Development Prospect
3. Import and Export of Yeast in China
3.1 Active Yeast
3.2 Non-active Yeast
4. Supply of Yeast Raw Materials and Downstream Sectors in China
4.1 Supply of Raw Materials
4.2 Downstream Sectors
4.2.1 Bakery Food
4.2.2 Beer Brewage
Inquiry Before Buying Report: http://www.marketresearchreports.biz/analysis/207651
5. Key Companies
5.1 AB Mauri
5.1.1 Profile
5.1.2 Operation
5.1.3 Business in China
5.1.4 Subsidiaries in China
5.2 Lesaffre
5.2.1 Profile
5.2.2 Operation
6 Forecast and Outlook
6.1 Competition Pattern
6.2 Supply of Raw Materials
6.3 Yeast Demand
6.4 Yeast Production
6.4.1 Capacity
More Reports under Food Market Research Reports: http://www.marketresearchreports.biz/category/118
About us
MarketResearchReports.biz is the most comprehensive collection of market research reports. MarketResearchReports.Biz services are specially designed to save time and money for our clients. We are a one stop solution for all your research needs, our main offerings are syndicated research reports, custom research, subscription access and consulting services. We serve all sizes and types of companies spanning across various industries. Kindly Viist: http://www.marketresearchreports.biz/.