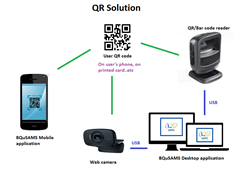 London, UK (PRWEB UK) 20 June 2014
BQuTMS the creators of BQuSAMS, a cloud based student attendance management system, has recently introduced its smartphone application with a registration and sign-in facility via QR-codes.
BQuSAMS is an attendance management system designed to easily and effectively track and record student attendance. It consists of biometric data capture and a web-based management tool with customisable reporting options for the education industry.
Through keeping up with the latest trends in attendance capture, BQuTMS saw that QR codes were a low cost option for capturing student attendance and engagement information. As there is no hardware setup required, users only need a web interface and their mobile device. However for institutes that require other options, the solution can operate with barcode reader or webcam as well for capturing the information.
An effective student attendance management system will produce accurate data to evidence the engagement and progress made by their students and enable tailored reporting and immediate communication with students to resolve any issues that might be arising.
A further benefit is that the system's real time reporting, which enables staff to easily identify students whose attendance and engagement is below expectation immediately. They can then make effective intervention to work with the students concerned and provide appropriate support and encouragement to get them back on track.
The BQuSAMS Mobile App with QR integration solution is designed to enable more options for set up and give further support in cost savings to institutes. The solution will enable easy registration of students via the BQuSAMS web portal and QR code. Furthermore the process will enable capturing of Student Attendance at the point of entry to a class.
The BQuSAMS application enables the following process for student registration and attendance capture;
BQuSAMS enables a QR Code to be automatically created when a new student is registered via the "Student Management" tab of its web portal
This unique QR code will be instantly emailed to the student and can be saved on to their smartphone/device
It can be scanned by the BQuSAMS application which is on the lecturer/teacher's device and the students attendance will be counted
Details of the BQuSAMS Mobile Application and QR sign-in facility can be found available on: http://blog.bqutms.com/bqusams-launches-its-mobile-application.
About BQuTMS
BQuTMS offers a complete suite of time management tools to capture, manage and analyse data gathered on a day to day basis.
The BQuSAMS system enables institutions to fulfil their requirements for Tier 4 licence compliance for tracking student's attendance and study engagement and to be able to quickly provide evidence if required. This can be an enormously time consuming, costly and inefficient process, which often fails to deliver the necessary information needed to comply.
BQuSAMS is a product developed by BQu, a subsidiary of Peritempo (Pvt) Ltd based in the UK. Learn more from their website http://www.bqutms.com.