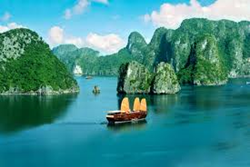 (PRWEB) June 20, 2014
Founded in 2008, Smile Travel Vietnam is known as a premier travel agency in Vietnam. Yesterday, in order to give the deepest thanks to beloved customers, the company presented a special tour called: the highlights of Vietnam.
The "highlights of Vietnam in 14 days" tour will depart on a daily basis throughout the year starting in Hanoi and ending in Ho Chi Minh City.
In the 14 days, travelers will visit the must-see cities in Vietnam, relax in luxury hotels. However, there is still free time to discover destinations independently. Normally, passengers will explore Vietnam with an English-speaking tour guide. But French, German or Spanish-speaking guides are available on request for certain groups.
This tour reaches the expectations of travelers who travel in a small group and want to share their trip with others but still enjoy high standards. The group size is a maximum of 15 guests (minimum 5) per departure so personal service is ensured.
"It's not similar to any other group tour before. We have created this style of tour for visitors who share a passion for traveling and at the same time enjoy meeting other people. The tour is guaranteed to depart on any date with a minimum of 5 persons, with a discount of 10% for any group of 10 people booking," said Mr Long, the Chief Executive.
Vietnam is a land of striking landscapes ranging from lush rice terraces and forested mountains in the north to the picturesque valleys of the Central Highlands and the fertile delta and beautiful beaches of the south. This unforgettable journey explores the treasures of four world heritages sites including Halong Bay, Hue, Hoi An and My Son.
For more information, please contact at sales(at)smiletravelvietnam(dot)com or call + 84 976.127.023.
About Smile Travel Agency:
Smile Travel Vietnam Company is a popular travel firm for both international and domestic customers. The company has had good feedback from worldwide travelers for its professional serving manner and high-quality overhaul. The company aims at 4 main services: hotel booking, Vietnam tours, visa on arrival and airfare.