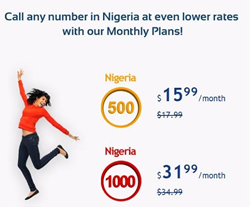 The customer service is courteous, the product is fantastic; I would recommend the service to friends & family. - TelephoneNigeria.com customer
Atlanta, Georgia (PRWEB) June 21, 2014
When it comes to calling rates, the lower, the better! That's why TelephoneNigeria.com decreased the rates of Nigeria 500 and Nigeria 1000, two monthly plans designed to help Nigerians living abroad keep a close relationship with family and friends back home. Because calling is simply easier and faster than traveling 6600 miles.
Nigeria 500 and Nigeria 1000, two calling plans offered by TelephoneNigeria.com are now even more affordable than before. Nigeria 500 offers 500 minutes for $15.99/month, instead of $17.99/month, Nigeria 1000 offers 1000 minutes for $31.99/month, instead of $34.99/month. This means 3.2 ¢/min to call any number (landline or mobile) in Nigeria.
Whether customers choose Nigeria 500 or Nigeria 1000, the plan renews automatically each 30 days and the minutes offered are added to customer accounts. In addition, plans can be canceled anytime, with no penalties and Upgrade/Downgrade options are always available in customer's account.
Voice Credit is another service TelephoneNigeria.com customers may use to stay in touch with people back home. Voice Credit works just like a prepaid phone card, but it gives all the online benefits a customer might need: transparency, online account with free features, 24/7 Customer Support and many more!
The Voice Credit rate for calls to Nigeria is 4.9¢/min. More precisely, for only $5 paid, customers will talk 102 minutes when calling any number in Nigeria.
The various calling options are possibly one of the greatest advantage that TelephoneNigeria.com offers its customers. Both Voice Credit & monthly plans minutes can be used when calling from any phone or network:

From any landline, mobile or even payphone in the world, through local or toll free access numbers
From any smartphone through the app called KeepCalling. The iOS and Android applications may be used to call without having to dial any access number, and even any phone number at all. Once logged in, customers can use their phone Contact to call.
From any computer with Internet connection through the Web Call application available in customers' online account
In addition to Voice Credit and Monthly Plans, TelephoneNigeria.com customers may recharge the mobile phones of family and friends from Nigeria using the Mobile Recharge service. The process takes less than 1 minute and the credit is sent instantly to the destination number. MTN, Airtel, Glo and Etisalat top ups to TelephoneNigeria are available, with values ranging from $5 to $35.58.
Transactions on TelephoneNigeria.com are transparent and easy and the PIN balance never expires. Moreover, transaction information and call records are always available in the online account. A TelephoneNigeria.com customer states: "The customer service is courteous, the product is fantastic I would recommend the service to friends & family" (wolfad57, on ResellerRatings.com).
For more information on the TelephoneNigeria.com products, visit: http://www.telephonenigeria.com.
About TelephoneNigeria.com
TelephoneNigeria.com is an interactive website designed by KeepCalling, a global telecommunications company registered in 2002 in USA. KeepCalling, the company behind TelephoneNigeria.com, offers other telecom solutions apart from Voice Credit: Mobile Recharge, Virtual Number, Monthly Plans, Web Call and Web SMS through various ethnic websites. Presently, KeepCalling provides its services to over 200,000 consumers and businesses, with a focus on customer satisfaction. In 2013, Inc Magazine listed KeepCalling as the 16th fastest growing company in the telecommunications industry.