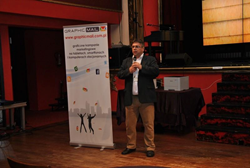 I want to teach these groups how they can use a modern way of communication to improve their lives.
(PRWEB) June 21, 2014
GraphicMail has expanded into the Polish market by launching GraphicMail Poland at an event attended by 143 participants on the 11th of June, 2014.
Presenting alongside brands such as Samsung and Unitech, Poland Country Partner, Robert Mińczyków entertained and educated guests about email marketing and how using GraphicMail will change the way we approach and utilize email in the future.
"GraphicMail is easy to use and can be implemented in any company. The effect of using the application can be seen almost immediately," says Robert, who has over ten years of experience in online industries. "The success of GraphicMail Poland means the success of local service providers, manufacturing companies, financial firms and religious communities."
GraphicMail was lauded as "pioneers of the future" by guests of the event who included Polish government official, Tomasz Sobieraj as well as companies and organizations such as universities, heads of government departments, bank institutions and travel agencies to name a few making the launch event a huge success.
Channel Manager, Lukas Hofer, sees the success of GraphicMail Poland as affirmation for the global brand stating, "We are very happy to see new partners succeeding quickly in their market with our products and services. This confirms our belief that GraphicMail products meet customer requirements and expectations extremely well and provide value to small businesses and large corporations alike."
According to the new country partner, growth of the email service provider is expected to skyrocket in Poland where Robert will oversee a unique business approach. "The Polish market is still waiting for the development of online marketing activities. I think that GraphicMail has a wide application from the largest city to the smallest village."
The business development plan for GraphicMail Poland will take a revolutionary and educational approach by using the application as a distribution channel for solidarity unions, local oligarchs and for the church. "I want to teach these groups how they can use a modern way of communication to improve their lives," says Robert.
Nick Eckert, CEO of GraphicMail, is pleased with the acquisition of a Polish country partner stating,"Poland has been one of the fastest growing economies in Europe over the last 5 years. We're extremely satisfied to have Unitech as our local partner to represent GraphicMail."
GraphicMail has country partners in over 25 different countries from Mexico to Australia, and continues to acquire more, making it a strong international brand with global reach.