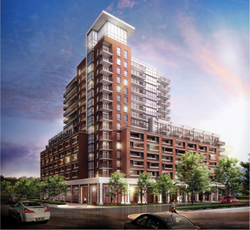 We're confident that making the Conasys platform available to Treviso Homeowners will reinforce our commitment to customer care, as well as our reputation as industry innovators.
Vancouver, BC (PRWEB) June 19, 2014
Lanterra Developments, a leader in the Canadian condominium industry, has been building award-winning communities in the GTA for over 12 years. Since the company's inception, Lanterra has made its mark across Toronto's skyline with landmark developments such as Maple Leaf Square and Ice Condominiums, as well as iconic luxury projects like One Bedford and Riverhouse at the Old Mill. As a rule, Lanterra only works with highly skilled and sought after architects and design firms, ensuring that every one of their coveted buildings is designed from the initial sales term to beyond the Occupancy period with complete homeowner satisfaction in mind. Accordingly, it is no surprise that Lanterra has decided to make the transition from extraordinary customer care to the industry-leading technology and responsiveness of the Conasys Homeowner Care Platform, which offers all homeowners 10 years of responsive, reliable and instant answers to inquiries about their suites through the Conasys homeowner portal, in conjunction with Lanterra's ongoing commitment to customer service from both their on-site and head office customer care teams.
Conasys' interactive platform will allow Treviso homeowners to access a wealth of detailed information about their home, on-the-fly and from any connected device such as smart phone, tablet or desktop computer. To that end, each of Treviso's 435 units will come equipped with a fully searchable portal, pre-populated with unit-specific information such as operating manuals, warranty information, building amenities and even paint codes. Furthermore, the platform will allow Lanterra to better converse with their customers through a suite of communication tools that includes Conasys' recently enhanced Service Request Functionality.
The prospect of enhancing Lanterra's customer care initiatives was a source of genuine excitement for Ericka D'abreo, Customer Service Manager and Amber Pickersgill, Building Performance Director at Lanterra, who hold that facet of their business in the highest regard: "The Conasys platform will allow us to achieve a level of customer care and engagement that we simply could not have realized on our own, and it does so through leveraging technologies that already play a key role in our homeowner's lives. We're confident that making the Conasys platform available to Treviso Homeowners will reinforce our commitment to customer care, as well as our reputation as industry innovators."
Jerry Bauer, CEO at Conasys, is thrilled with the impact their platform has been making in the North American market recently, especially in Toronto where they have acquired many high-profile clients. "We implemented several significant product enhancements recently and we have seen a direct correlation between our enhanced platform and our success in the GTA. We are delighted to see that many of our industries most prominent builders and developers can see and appreciate the relationship between the homeowner experience and a genuinely successful project."
About Conasys: Conasys Inc. (http://www.conasysinc.com twitter:@conasys) is a forward-thinking technology company whose cloud-based homeowner care platform is designed specifically for new home builders and developers. Their industry-leading platform includes homeowner and builder specific portals that provide instant access to all the details and components of each home. Each portal includes a suite of efficiency and communication tools designed to enhance the understanding, service, maintenance, and management of individual homes. Since their inception in 2006 they have built a client portfolio of over 400 builders and real estate developers.