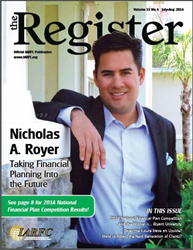 I never dreamed that eventually one day I would be sitting in the studios at Clear Channel across from my dad, Jerry Royer, doing our radio show and be introduced as the 'Father and Son Financial Planning Team' - Nick Royer, RFC
Middletown, OH (PRWEB) June 20, 2014
According to Nick, a career in Financial Planning was not his first choice. He was planning to fulfill his entrepreneurial dreams of a computer kiosk company when a business trip to Hawaii with his father Jerry Royer, RFC changed his focus. On that trip, Nick recounts how one of his father's colleagues cornered him and asked why he was not going into the family business. Nick remembers that conversation, "You know Nick, your father is one of the best I've ever seen in the business and you have the chance to learn from him. Most people who get into this business would love to have a mentor like him." Nick returned home and joined the family firm.
Fourteen years later Nick finds himself sitting in the studios at Clear Channel across from his dad doing a radio show being introduced as the 'Father and Son Financial Planning Team.' "Radio is a great way to get your message out there," says Nick. "We can truly educate people week after week." This evolution of a successful radio outreach has been a key factor in increasing attendance to their seminars. "As a result of hearing us on the radio, people already know that we believe in education" Nick relates. "As a result, our events are always sold out."
Other keys to a successful financial professional career are to learn from other great financial advisors and embrace change. The way his firm does things today is not the way it was when he first got started. "Since our clients are spread throughout the country, we conduct web meetings so our clients can sit at home and meet with us," says Nick. "Our clients love this."
As a Director on the Board of the IARFC, Nick fully supports the programs embodied by the Association. His enthusiasm for the National Plan Competition recently held in Las Vegas is an example of his interest in helping young people enter the profession. Chairman Ed Morrow feels that Nick is a very positive addition to the Board. "I see how Nick looks toward the future in his own career and working with his father," comments Morrow. "I know he will show that same intuitiveness in helping the IARFC move through some very exciting times in the near future."
To read the entire article on Nick Royer, go to the IARFC website. For information on the Register, contact Wendy Kennedy at wendy(at)iarfc(dot)org.