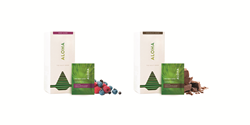 New York, NY (PRWEB) June 19, 2014
ALOHA announced today the launch of limited edition Chocolate Cacao and Berry Blend variations of its popular The Daily Good superfood powder.
Chocolate Cacao and Berry Blend join the original The Daily Good superfood powder which was launched in January 2014, and became an instant hit among health and nutrition enthusiasts. All three variations of ALOHA's The Daily Good can be purchased at ALOHA.com.
The Daily Good is a superfood powder developed through a patented process that purées, and then gently dries responsibly-sourced whole foods. Through this unique technology, the fruits and vegetables maintain valuable nutrients and fiber that are lost in most green juices.
One serving of The Daily Good will replenish and fuel your body naturally with 14 nutrient-rich ingredients such as organic Spirulina, organic wild blueberries, organic king trumpet mushrooms and Hawaiian yellow ginger. The Daily Good contains NO artificial flavors or sugars ever. It has been proven to cleanse and purify, boost energy, promote healthy digestion, invigorate skin and create a general sense of health and well-being.
ALOHA's The Daily Good individual packets make it easy to carry and can be added to your favorite drink, smoothie, glass of water, oatmeal, salad dressing and even cocktail – making it the perfect travel companion. At only $2.50 per packet, The Daily Good is more affordable, nutrient-dense, fiber-rich and low calorie than other juices on the market which cost as much as $10 a serving at juice bars and stores.
ALOHA's Founder and CEO and Founder Constantin Bisanz said, "At ALOHA we are obsessed with the quality, purity and potency of our ethically sourced, nutrient-rich products. After an awesome response to our original, The Daily Good, we've created two new variations in chocolate cacao and berry blend. Our goal is to make health simple, fun, accessible and delicious."
ABOUT ALOHA:
ALOHA is a mission-driven health and wellness brand that combines rigorous scientific research with ancient traditional wisdom. ALOHA aspires to provide others with responsibly made, high-quality products and simple health solutions. Together with more than 100 of the world's most respected doctors, scientists, trainers, yogis, nutritionists, and holistic health practitioners, ALOHA develops innovative, premium products and creates inspiring content that informs and motivates individuals to live healthier, happier lives. To find out more about ALOHA visit ALOHA.com.