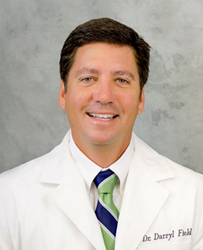 Jacksonville, FL (PRWEB) June 19, 2014
New dental patients who have lost teeth due to gum disease are invited to visit Dr. Darryl Field's practice to receive dental implants in Jacksonville. Dr. Field also treats gum disease with the help of a revolutionary laser gum surgery known as the Laser Assisted New Attachment Procedure (LANAP®), which rids the oral environment of this progressive infection to enable the successful placement of dental implants.
When a tooth is lost due to injury, decay, or periodontal disease, it can be far more than merely an inconvenience or an eyesore. Loss of one or more teeth can affect the way an individual eats and speaks, and can even result in significant loss of bone and additional teeth over time. When a tooth is missing, it is no longer able to stimulate growth in the jaw bone and as a result, the jaw bone begins to degrade and become weakened if the tooth is not rapidly replaced with an implant. Residents who have one or more missing teeth can receive dental implants in Jacksonville in order to discourage further bone loss. Laser gum surgery can also help to combat bone loss by stimulating the jaw bone and encouraging bone growth and tissue reattachment to healthy teeth or existing implants.
Dental implants provide a welcome alternative to bridges and dentures, which can be cumbersome, uncomfortable, and may compromise the health of the surrounding teeth and underlying bone. Patients who have missing teeth often prefer dental implants due to their natural appearance, comfort, and sturdiness. When properly fitted, dental implants are designed to last for a lifetime and can save surrounding healthy teeth and bone from damage.
Patients who have lost one or more teeth due to periodontal disease are encouraged to receive LANAP® treatment in order to remove the diseased gum tissue before they replace their missing teeth with dental implants. LANAP® is a highly effective gum disease treatment that serves an additional function of stimulating healthy bone growth. Once the bone is stimulated and bone loss is slowed, the patient is more likely to become a viable candidate for dental implants.
Periodontal disease patients who want to treat their condition, replace any missing teeth, and achieve a healthier smile are encouraged to visit Dr. Field to schedule a consultation for laser gum surgery and dental implants in Jacksonville, FL.
About The Doctor
Darryl A. Field, DDS, PA, is a periodontist offering personalized dental care to patients in Jacksonville, FL since 1997. Dr. Field received his Doctor of Dental Degree and his certificate in Periodontics from LSU School of Dentistry. He is part of one percent of dental professionals providing the first FDA cleared laser procedure for gum disease and periodontal treatment. To learn more about Dr. Field and his dental services, visit his website at http://www.jaxdentalhealth.com and call (904)-201-8293.