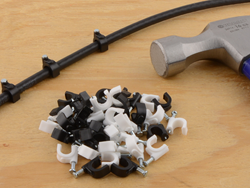 All our customers have to do is harness the cable inside the loop of the clip and hammer the nail down. It is as easy as that.
Quakertown, Pa (PRWEB) June 24, 2014
Secure™ Cable Ties is advancing by leaps and bounds to become one of the most influential online marketplace for satisfying the cabling requirements of their customers. Their storefront has slowly increased from cable ties to cable hooks; nail mounts being the latest addition.
"From the very start, our main aim was to provide the customers with the tiniest detail that the hardware line could offer," said George McDowell, product executive with Secure™ Cable Ties. "The latest edition of Nail Mounts from Secure™ is another stepping stone that will help us in reaching that goal." When asked as to the importance of releasing these Secure™ Nail Mounts into their storefront, Jeramie Cavanaugh, senior marketing consultant with Secure™ Cable Ties stated, "Nail mounts are to miniature cabling while cable ties are to bulk cabling. In almost every aesthetic networking department, even in the smaller ones, you will notice, nail mounts are used."
After revealing the product to the panel, Jeramie Cavanaugh carried the baton and explained, "The most annoying cables are the small and skinny ones. These are the ones that customers see dangling from the rest of the setup and snagging onto some other cabling." This got a lot of nods from the members present in the event. "Our Secure™ Nail Mounts will not only help them tighten these snags, they will also help in increasing the aesthetic appeal of the workplace." On being asked about the usability of the clip, George McDowell said, "All our customers have to do is harness the cable inside the loop of the clip and hammer the nail down. It is as easy as that."
George McDowell added, "Our products are manufactured by Secure™ and those customers who have been buying from us know the quality that this brand name stands for. The Secure™ Nail Mounts come in two basic variants. Rounded and Flat Nail Mounts. Our customer can decide on the variant according to the cable that is being pinned down. Also we are offering these nail clips with different loop diameters. This adds to the versatility of what we have to offer."
By making such principles their stronghold and USP, Secure™ Cable Ties is going to flourish its presence in the online setup. Readers who are interested to know more about the Secure™ Cable Tie Kits can visit the website Securecableties.com or contact on the below mentioned company information. Alternatively, an online chat is also available with the representatives at Secure™ Cable Ties.