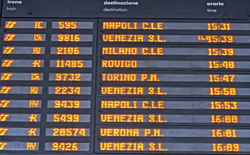 Italy offers some of the most incredible cities in the world and seeing them by train is the way to go. Sit back, relax and let the culture and magic of this ancient country envelop you.
Somerville, MA (PRWEB) June 22, 2014
Summer travel is gearing up and for those who have a train trip through Italy planned this year, ItaliaRail, the experts on train travel to, from and around Italy, offers these insider tips straight from our seasoned customer service agents, to help make your trip hassle-free and relaxing.
Book Tickets in Advance:
Save time and money by booking your tickets online, in advance, at http://www.italiarail.com. Travelers who book in advance are privy to discounts of up to 75% on certain fares. Booking tickets in advance helps avoid long lines at Italian train stations and provides peace of mind that your itinerary is set before you go.
Give Yourself Enough Travel Time:
Remember to allow 3 to 4 hours between the time your plane arrives in Italy and the time your first train leaves the train station. For example, if you are flying into Rome's Fiumicino Airport and need to catch a train to Florence, from Roma Termini, allow the proper amount of time to gather luggage and take the Leonardo Express train (a 32 minute ride) to Termini. When traveling throughout Italy, try to arrive at the station at least an hour before your train's departure time to keep things more peaceful so you can really enjoy your journey.
Train Station Strategy:
Once at the station, check the schedule boards for your platform or bin number (where your train departs from). Also check your ItaliaRail order confirmation to see if you have e-tickets or need to print some of the tickets from your itinerary.
If travel includes regional trains, these tickets must be printed and validated prior to boarding the train. High speed trains are strict e-tickets, whereby you have to either present the printed copy of the PNR (Passenger Name Record) confirmation or be able to show the confirmation on your smartphone or iPad. If you do need to print, head to a self-serve ticket machine and enter your PNR to obtain. Remember to validate all regional tickets at the validation machines located on each platform (it's a smallish oval or rectangular machine with the word Trenitalia on it). Don't forget to remove your ticket from the machine after validation, you will need to show it to the conductor if asked. It's always better to be early than late, the major train stations in Italy offer ample cafes, clothing stores and other browse-worthy amenities should you need to kill some time before boarding.
The Low-Down on Luggage:
One of the many great features of train travel is you can hop on and off without the hassles of security checks and luggage fees. Roll-away bags of carry-on size are the best for train travel. Our customer service agents can't stress enough the importance of feeling comfortable with the weight of your bag. On the train, keep your valuables with you in your seat. Small bags can be put in the overhead bins, while larger bags are stowed the luggage areas at the the ends of each train car. Our agents recommend taking one carry-on size bag and one larger stowed bag. Although there are no strictly enforced rules around the amount of bags you can bring onboard, passengers with excessive amounts of luggage will be asked to check it for transport on a special luggage car. Less is more, when it comes to traveling the trains of Italy with bags.
Relax :
Breathe - the oxygen flowing to your brain will relax you. Look around at the architecture of the train station, notice how the Italians dress, watch them interact. This is all part of the travel experience. Beth King, Operations Manager for ItaliaRail, reminds travelers to remember, "There are always opportunities to relax and enjoy. Italy offers some of the most incredible cities in the world and seeing them by train is the way to go. Sit back, relax and let the culture and magic of this ancient country envelop you."
About ItaliaRail:
ItaliaRail are the experts on Italy train tickets and passes. In cooperation with Trenitalia, Italy's only national railway, ItaliaRail provides a direct connection to Trenitalia's reservation system allowing rail travelers access to the most routes at the best prices. Travelers are able to book in multiple currencies and knowledgeable customer service agents are available to answer questions and give advice on train travel throughout Italy. ItaliaRail was launched in 2005 and is a division of International Rail, LLC.