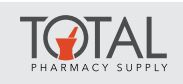 Patients shouldn't experience pain when applying prescription topicals and gels. We are proud serve our clients by offering the Total Pump alternative.
Dallas, Texas (PRWEB) June 20, 2014
Total Pharmacy Supply (TPS), a Dallas-based wholesale distributor of pharmacy supplies, successfully expanded its catalog with the recent introduction of The Total Pump airless metered dose system. Total Pump, which boasts a consumer-friendly packaging option for creams, gels and pastes, is the newest link in the TPS supply chain. The device recently migrated from its humble origins in the cosmetics industry, being re-purposed to help satisfy overwhelming demand among pharmacies nationwide.
What was once a vessel for lotions, hair products, and the like has benefited from innovative pharmaceutical industry expansion. Patients love the elegant bottle and smooth dispensing, while pharmacists appreciate the ease of filling, accuracy and affordability.
TPS Compounding Consultant Joe Jimenez, CPhT said, "We're thrilled to offer a new brand of airless pump that allows vital medications to be dispensed more efficiently and effectively than the standard metered dose systems currently on the market. All too often we hear feedback from pharmacists whose patients are suffering from debilitating conditions such as arthritis and experiencing difficulty or pain when trying to use their cream or gel prescriptions. With the addition of Total Pump, we are now one of the few suppliers that offer this innovative technology at a very competitive price. Doing so helps us stay at the forefront of prescription solutions and shows our commitment to not only our clients, but the patients they serve."
Coming in at 35% less than the leading competitor, Total Pump utilizes a pre-installed reverse beveled piston to ensure 97% evacuation, making sure patients can effectively use every ounce they pay for. With no assembly required or bags to sustain a potential puncture, Total Pump provides airtight, UV protection to any sensitive prescription. This is of special interest to patients who can pay upwards of $100 for a single prescription.
Additionally, the device is perfectly suited for patients who typically experience difficulty applying topical medications due to arthritis or muscular strains. The ergonomically conscious design uses a wide pump and slim bottle for added control, decreased pain and increased compliance.
Pharmacies can choose from 30, 75, and 150 ml sizes in translucent blue or opaque white all of which can handle the densest products with great ease. A stainless steel spring makes it possible to achieve repetitive, accurate delivery since it is many times more accurate than its standard plastic counterpart.
For a limited time, TPS is offering free samples and a 5% discount to pharmacies looking to implement the new dispensing method into their stores. Call our Customer Service Department at (800) 878-2822 or email us at info(at)tps-online(dot)com for more information or to request your sample.
About Total Pharmacy Supply: Total Pharmacy Supply (TPS) is a wholesale distributor of pharmacy supplies who has served its 4,500+ nationwide independent, chain, hospital, and long-term care pharmacies for more than 25 years. TPS strives to demonstrate respect and provide opportunities for growth and financial security for all stakeholders through an atmosphere of continuous improvement and open communication doing something common in an uncommon way. Product lines include medication compliance aids, durable medical equipment, prescription packaging, dispensing supplies and equipment, bags, forms, and other supplies. For more information, please visit: http://www.totalpharmacysupply.com.