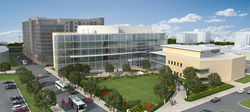 In mid-April, Indiana University's Board of Trustees announced the location for its new School of Medicine in downtown Evansville – Indiana's third largest city.
Evansville, IN (PRWEB) June 24, 2014
Typically viewed as a place where down-to-earth and practical approaches to life are woven in its residents' DNA, the Midwest shuns the limelight preferred by flashier locales. Recent economic and community developments in Indiana's great Southwest though may put that predilection to an end. Over the past 18 months, Southwest Indiana is making very loud and noteworthy progress.
In mid-April, Indiana University's Board of Trustees announced the location for its new School of Medicine in downtown Evansville – Indiana's third largest city. The new $69.5 million 170,000 square-foot multi-institutional health science education & research medical campus is a first of its kind with four different higher education partners and four distinct health system partners serving 1,800 students. The new medical school campus will also be adjacent to the recently announced $71.3 million 257-room DoubleTree by Hilton Convention Center Hotel and 78-room residential tower.
Warrick County, Southwest Indiana's fastest growing and highest per capita income county, has built the Warrick Wellness Trail, a defined health corridor currently housing more than 30 health and life science businesses surrounding Deaconess Gateway Hospital – one of the region's largest and most comprehensive healthcare centers. The Warrick Wellness Trail draws patients and workforce from a three-state area containing more than 800,000 people.
A short drive north along the new Interstate 69 (opened in late 2012) and adjacent to U.S. Highway 41 in Gibson County is Indiana's largest automotive assembly plant, Toyota Motor Manufacturing Indiana, Inc. (TMMI), producing 300,000 vehicles a year. TMMI's latest $400 million expansion consolidated global Highlander and Highlander Hybrid production into Southwest Indiana. TMMI also produces the Sequoia full-size SUV and the Sienna "Swagger Wagon" minivan.
Posey County, the most western county of the Evansville metropolitan area, is the new home to Indiana's largest investment, the $2.4 billion Midwest Fertilizer. Slated to break ground later this year, Midwest Fertilizer will use 2,500 construction workers over a three-year period to construct the state-of-the-art manufacturing facility and will employ 150 high-wage jobs when complete. According to the United States Department of Agriculture (USDA), the U.S. is the largest importer of nitrogen and urea-based fertilizers; and, once Midwest Fertilizer Corporation's facility goes on-line, those dollars will remain in the U.S. and more importantly, Southwest Indiana.
And with every new investment comes the need to expand transportation options. American Airlines announced in May the addition of three daily flights to Charlotte, North Carolina starting October 2, 2014; and, not to be outdone, Delta announced beginning August 20, 2014 its first daily departure and last daily arrival to and from Atlanta to Evansville Regional Airport will feature the 110-seat Boeing 717. The Boeing 717s offer 12 First Class seats, 15 Economy Comfort seats and 83 Economy seats.
To top it off, on May 31, the University of Southern Indiana (USI) Screaming Eagles baseball team earned the program's second-ever NCAA Division II National Championship with a 3-2 victory over Colorado Mesa University in Cary, North Carolina. With the win, USI earned its second national championship in the sport in the past four years as the Screaming Eagles claimed their first national title in 2010.
Southwest Indiana communities are partnering together to impact the region and the State of Indiana in significant ways through collaborative business initiatives, educational attainment and a dedication to improve the quality of place in becoming Indiana's great Southwest.
The Economic Development Coalition of Southwest Indiana acts as the marketing arm and regional economic development organization for Gibson, Posey, Vanderburgh, and Warrick Counties in Southwest Indiana. The Coalition works with its local county economic development organizational partners to facilitate attraction activities and supports efforts to enhance the business climate through regional capacity building. Since its formation in late 2006, the Coalition has helped to secure over $2.8 billion in new investment and 3,228 new jobs from existing and new companies such as Berry Plastics, Mead Johnson, Toyota Boshoku, Midwest Fertilizer Corporation and AT&T.