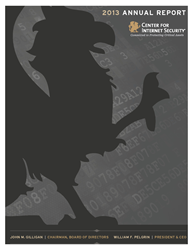 East Greenbush, NY (PRWEB) June 19, 2014
The Center for Internet Security (CIS) announced today the release of its 2013 annual report, available for download. The report highlights the Center's continued momentum as a thought leader and driving force for improving cyber security in the public and private sectors.
"We are seeing unprecedented growth in cyber incidents and that trend will only increase as we move more of our personal and professional lives online," said William Pelgrin, CIS president and CEO. "We are incredibly proud of our accomplishments this year, however there is still much to be done. We look forward to working with our partners to collectively move the bar of preparedness ever higher."
In 2013 CIS built upon its highly successful collaborative model to expand partnerships in two vitally important areas. In the first, CIS facilitated significant enhancements to intelligence gathering and information sharing with the creation of a new partnership with state governors' homeland security advisors and fusion centers across the country. CIS is now sharing strategic and operational intelligence with these communities, helping ensure actionable information gets to those who can act on it. The nonprofit organization is also developing a framework all fusion centers can use to integrate cyber security into their areas of responsibility. In addition, CIS expanded its focus on protection for the critical infrastructure sectors by inviting these entities to co-locate staff with the CIS Integrated Intelligence Center to further enhance readiness and response efforts.
CIS partnered with the U.S. Department of Homeland Security (DHS), the National Association of State Chief Information Officers (NASCIO) and the National Association of Counties (NACo) to conduct the Nationwide Cyber Security Review, an extensive, voluntary survey to assess the level of cyber security preparedness and resilience within state, local, tribal and territorial (SLTT) governments. All 50 states participated in the 2013 survey, an 86% increase from the inaugural survey conducted in 2011. This level of participation signifies the growing awareness and importance of cyber security, and is extremely valuable in developing a comprehensive picture of the current threat landscape and the identification of key priorities.
As an important step in helping SLTT governments address cyber challenges, CIS expanded its Managed Security Services (MSS) Program, which provides real-time security monitoring. Beginning in 2014, CIS, through its partnership with DHS, will grow the MSS program to include all 50 states and U.S. territories, helping them strengthen their security infrastructures and adopt the NIST Cyber Security Framework.
CIS' collaborative approach extends to international relationships as well, including participation in a NATO initiative focused on achieving a stronger cyber defense posture. The program comprises a multi-disciplinary team of experts from 16 countries and three international institutions. In addition, CIS is furthering efforts for the availability of open standards-based security automation specifications and content to the international community.
In 2013, CIS expanded its catalogue of resources for the global community through the release of new and updated security guidance (benchmarks) enhanced features to the automated Configuration Assessment Tool (known as CIS-CAT), and other consensus-based products. CIS will continue its collaborative initiative launched in 2013 to develop practical solutions that strengthen the security of mobile medical devices and network connected health care systems. Attention will also be given to other areas of critical need outside the healthcare sector.
CIS has earned a reputation for its consensus-based resources, which are widely used to attain compliance with a number of recognized security standards. In 2013, the number of vendor software products certified to meet CIS secure configuration standards increased by 44%, further demonstrating the value of CIS benchmarks and their use to signify a sign of strong commitment to consensus-based configuration security recommendations.
To learn more about how CIS is improving cyber security and plans for 2014, please visit the website or download its Annual Report.
About the Center for Internet Security
The Center for Internet Security (CIS) is a 501c3 nonprofit organization focused on enhancing the cyber security readiness and response of public and private sector entities, with a commitment to excellence through collaboration. CIS produces consensus-based, best practice secure configuration benchmarks and security automation content, and serves as the key cyber security resource for state, local, territorial and tribal governments, including chief information security officers, homeland security advisors and fusion centers. CIS provides products and resources that help partners achieve security goals through expert guidance and cost-effective solutions. To learn more please visit cisecurity.org or follow us at @CISecurity.
Contact:
Krista Montie
The Center for Internet Security
518-266-3460
Krista(dot)montie(at)cisecurity(dot)org
Liz Grimes
Overit for The Center for Internet Security
518-465-8829 x 213
Liz(at)overit(dot)com