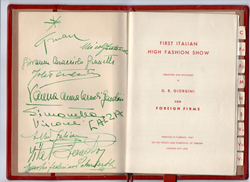 (Giorgini) ...he used Fashion to create Made In Italy as a brand, he realised fashion was the only tool to be used to do that, just Fashion, he realized that Fashion had a leading role.
Florence, Italy (PRWEB) June 23, 2014
This year The Centro di Firenze per la Moda Italiana (Florence Centre for Italian Fashion) is celebrating its 60th anniversary.
The Pitti Immagine Uomo event, now in its 86 edition, will be the occasion where the celebrations will commence in a special project produced in conjunction with Pitti Immagine, the Ministero dello Sviluppo Economico and ITA - Italian Trade Agency.
To celebrate this special anniversary Fashion Spyder has delved into the origins of this great business of Italian fashion, sat in conversation with Giorgini's grandson and discovered previously untold details of this story, to bring a new understanding of how exactly this business came to be and an a appreciation of what one man's vision was able to achieve in the fallen economy of post-war Italy.
Florence truly is a home for artists and artisans, for whatever the reasons may be that this particular city has produced such a wealth of skill and creativity what we do know is that it's a story that has been centuries in the making. Evidence of the artisan traditions of craftsmanship and beauty produced with innovative practices and creativity can be found as far back as the Etruscan art of cast and engraved bronze sculptures and mirrors from 500 BC and this tradition of excellence in art hasn't ceased since. The Renaissance and the great artists Michelangelo, Leonardo da Vinci, Botticelli and Giotto are all sparkling stars in Florence's great history. In the more recent 1920s Florence was a city filled with ateliers, San Frediano, the OltreArno, Santa Croce were bustling with hundreds of artisans working with hand skill, capability, knowledge of materials, particularly of leather, that had been passed on through the years.
It was in this time, 1922, that Giovanni Battista Giorgini began trading in these artisan crafts with America, opening his first office there in 1923 and selling to department stores such as Tiffany who bought from him silverware and jewellery. In the post second world war period the work of the Artiginato Artistico was fundamental to the city of Florence's economy and Giorgini was fully aware of the importance of an international trade.
At Fashion Spyder we report daily on topics and events that we deem necessary to educate today's emerging designers in the fields related to their profession. We report on fashion business management, funding opportunities and design competitions, industry practices and emerging technology amongst many topics. Our independent research is conducted with the needs of the emerging designer in mind. For this article celebrating the 60th anniversary of the Centro di Firenze per la Moda Italiana, we have chosen to focus on the origins of the story and document further the situation and environment of that time when Italian fashion was truly born. Our wish is to present to the struggling new businesses of fashion, a story of success that kept growing to become what it is today: an International powerhouse for fashion and a historical event that has, and will continue to, influence the world of fashion.