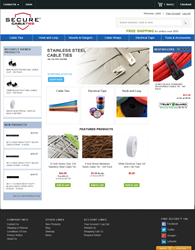 The company's website portal has been given a completely young and innovative overhaul.
Quakertown, PA (PRWEB) June 26, 2014
Secure™ Cable Ties seems to have found the perfect balance between resourcefulness and modernity when it comes to online merchandising. The company's website portal has been given a completely young and innovative overhaul. Let us have a look at what the executives had to see during the official ceremony.
"Secure™ Cable Ties is in a stage where it can take a breather and diversify the stock that it already has at its disposal," said George McDowell, market expert with Secure™ Cable Ties. "This has given us the opportunity to improve ourselves at the grassroots level. Our USP from the beginning has been the satisfaction of our customers. We decided in a board meet that the best way to improve that was to make the process of purchasing, as easy as possible for the consumer. This led us to hire some of the best website designers in the franchise sector."
Jeramie Cavanaugh, a website manager with a renowned company explained the new layout, "We have incorporated all the modern generics that an online storefronts have these days. The most delectable according to me is the Live Banner that depicts the foremost bestsellers of Secure™ Cable Ties. This will give the consumers a good idea about what the manufacturers do best. From experience, I have seen that this diminishes the amount of time a consumer has to map through the website to find their item of interest." We surely have seen the live banner on many such websites and they sure are a boon for fast shoppers. "Another addition," said Jeramie Cavanaugh, "is the Recently Viewed Products and the New Products List. The basic purpose behind these two tabs is to predict what the general customer is going to purchase. This modus operandi makes shopping easier and faster for the customer."
"My personal favorite is the Featured Products tab," said George McDowell. "These are our best showcased products and enlist some of the handiest ones. These have had continuous high sales and have received good reviews from previous customers. I also love what Jeramie Cavanaugh has done with the Categories Window. All the categories are laid out in the header, allowing easy navigation to different pages. The team has also made the site more vibrant and aesthetic."
With high utility products and renowned manufacturers already backing them up, Secure™ Cable Ties sure seems to be raising the stakes by developing an easily navigable website to increase consumer usability and satisfaction. The stairs seem to go only skywards from here. Those readers who are interested in experiencing the user interface of this website can visit the Secure™ Cable Ties website directly from their browser.