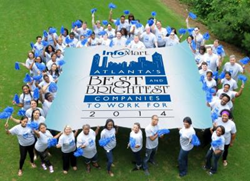 (PRWEB) June 20, 2014
InfoMart, one of the nation's largest female-owned background screening company, has again been named as one of "Atlanta's Best and Brightest Companies to Work For" by the National Association for Business Resources (NABR).
According to the NABR, this year's winners proved to be companies that practice innovative strategies and represent best practices in human resources in diverse industries such as insurance, hospitality, communications and nonprofit. The award recipients will be honored June 17 at the Atlanta Marriott Northwest Galleria in Atlanta.
"I am honored that InfoMart has received this award for a second year in a row," said Tammy Cohen, InfoMart's founder and president. "It is the InfoMart team that earned this prestigious honor through their daily dedication to quality and exceptional work."
With 100 employees at its metro Atlanta office, the company engages its team members through programs such as "I'M InfoMart" in which committees including "I'M Fit" and "I'M Giving" inspire, motivate and satisfy employees. "I have strived to create a company-wide culture that promotes life-work balance, rewards outstanding work and embraces and empowers our employees," said Cohen.
An independent research firm evaluates each company's entry based on key measures in various categories. They include Compensation, Benefits and Employee Solutions; Employee Enrichment, Engagement and Retention; Employee Education and Development; Recruitment, Selection and Orientation; Employee Achievement and Recognition; Communication and Shared Vision; Diversity and Inclusion; Work-Life Balance; Community Initiatives; Strategic Company Performance and the Best of the Best Small Business.
The winning companies also vie for 11 elite awards, one granted for each category. Also, an overall winner that excelled in all categories will be honored with a "Best of the Best Overall" award. The elite award winners will be announced during the luncheon.
"The selection, recognition and awarding of this year's Best and Brightest companies allows our organization to showcase their best practices. The honorees have clearly demonstrated why each of them would be an ideal place for employees to work. The companies that we are recognizing this year are an example of exceptional human resource practices and represent high standards in today's economic climate," said Jennifer Kluge, NABR president. For more information, visit http://www.101bestandbrightest.com.
About InfoMart
InfoMart is a leading provider of background check services that provide businesses with the information they need to make well-informed hiring decisions. Founded in 1989, this year marks InfoMart's 25th year in business. The company is a pioneer in developing innovative technology and screening services, from criminal history searches to verifications of employment. Accredited by the National Association of Professional Background screeners (NAPBS), a designation earned by less than 10% of the industry, InfoMart has also been recognized on both Security Magazine's Security 500 and Workforce Magazine's Hot List. The company prides itself on its dedication to our customers, innovation and accurate reporting.
# # #