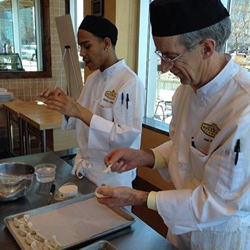 The Colorado Culinary Academy program is of great value to those looking for a degree alternative.
Greenwood Village, Colorado (PRWEB) June 20, 2014
The ACFEF Quality Program status is a recognition earned by non-degree granting culinary programs that offer training and education (as opposed to qualification requirements for ACFEF accreditation). Programs that qualify include 1) Specialized or single subject programs, 2) Formalized demonstration classes, 3) Online educational programs, or 4) International non-degree culinary programs that market to American students.
The ACFEF performed a full evaluation and inspection of Colorado Culinary Academy, and determined that they meet or exceed all the criteria for this prestigious endorsement. The ACFEF recognition is for three years at which time another evaluation will be conducted.
"The Colorado Culinary Academy program is of great value to those looking for a degree alternative," said Thomas Macrina, CEC®, CCA®, AAC® and ACF's National President. "We are excited to recognize them with this certificate of quality and hope that they continue to excel."
About the American Culinary Federation
The American Culinary Federation, Inc. (ACF), established in 1929, is the standard of excellence for chefs in North America. With nearly 20,000 members spanning 200 chapters nationwide, ACF is the culinary leader in offering educational resources, training, apprenticeship and programmatic accreditation. In addition, ACF operates the most comprehensive certification program for chefs in the United States, with the Certified Executive Chef®, Certified Sous Chef®, Certified Executive Pastry Chef® and Certified Culinary Educator® designations accredited by the National Commission for Certifying Agencies. ACF is home to ACF Culinary Team USA, the official representative for the United States in major international culinary competitions, and to the Chef & Child Foundation, founded in 1989 to promote proper nutrition in children and to combat childhood obesity. For more information, visit http://www.acfchefs.org. Find ACF on Facebook at ACFChefs and on Twitter @ACFChefs.
About Colorado Culinary Academy
Colorado Culinary Academy's accelerated curriculum is based on classic French technique and taught in a modern contemporary environment. This 12-week professional course creates the perfect starting point for anyone wishing to start or expand a culinary career through immersion. Students will learn the culinary basics, classics, global cuisines, wine pairings, and proficient knife skills.
In just three months, graduates are prepared to take the next step in their culinary career. Colorado Culinary Academy is approved by the U.S. Department of Veteran's Affairs for training retired military personnel and their families. For more information, please contact Paul Kelly at (303) 220-6996, admissions(at)coloradoculinaryacademy(dot)org, or visit online at http://www.coloradoculinaryacademy.org (Twitter: @CoCulinaryAcad, Facebook: ColoradoCulinaryAcademy ).