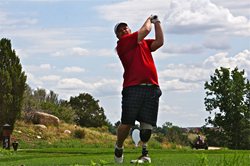 Camp Pendleton, CA (PRWEB) June 19, 2014
This week, the athletes of Team Semper Fi (TSF) and Team America's Fund (TAmF) will be teeing off at the 3rd Annual Semper Fi Open to raise funds and awareness for fellow injured service members. Over the past two years, this golf tournament has brought in over $275,000 in support of the Semper Fi Fund and this year, they're well on their way to meeting their $150,000 fundraising goal.
On June 22nd, the members of TSF/TAmF will hone their skills in a special golf clinic and 18-hole practice round just for them to prepare for the big day. The Semper Fi Open will be held the following day, June 23rd at the Shadow Ridge Golf Club in Vista, California.
The Semper Fi Open has become an annual tradition for organizer Chris Keogh. A native Australian, Keogh has lived in the US for almost 50 years, establishing a successful company that treats contaminated water on military bases throughout the country; the Semper FI Open is his way of giving back to the military community. The Semper Fi Fund will receive 100% of all donations made through the Semper Fi Open.
This year's efforts will be dedicated to Keogh's daughter Michelle, who passed away in 2012; she worked alongside her father to plan the inaugural Semper Fi Open and shared her father's passion for the cause.
"We are thrilled to participate in this wonderful event for the third straight year; we are so grateful to him and the Shadow Ridge golf community, who have truly embraced us," said Karen Guenther, CEO and President of the Semper Fi Fund. "Though Chris is Australian by birth, he's become a true American patriot; and through his tireless efforts he has changed the lives of many American service members and their families. Today, we play in their honor and also for Michelle, whose spirit is with us throughout this event."
For more information or to arrange an interview please contact:
Casey Fisher: 760-213-8066
About The Peter Murphy Semper Fi Fund Sports Program – Team Semper Fi & Team America's Fund
Made up of more than 700 service members who qualify for our assistance, The Peter Murphy Semper Fi Fund Sports Program – Team Semper Fi & Team America's Fund is the heart and inspiration of the Semper Fi Fund's rehabilitative Athletic Program, and is an extension of the assistance we provide. The team is made up of servicemen and women who have overcome significant challenges in their service to our country, and have embraced the fighting, athletic spirit on their road to recovery. They are an inspiration to us all, but more importantly, they are an inspiration to their fellow service members who are also recovering.
The Semper Fi Fund provides the team with coaches, specialized sporting equipment, entry fees, and travel expenses to athletic events. Athletes are also given the opportunity to receive high-level training from former and current Olympic and Paralympic through the US Paralympics.
About Semper Fi Fund and America's Fund
Semper Fi Fund, and its program America's Fund, are set up to provide immediate financial assistance and lifetime support for injured and critically ill members of the U.S. Armed Forces and their families, directing urgently needed resources to post 9/11 service members of the Army, Marine Corps, Navy, Air Force, Coast Guard, and Reserves. Semper Fi Fund has been working with wounded service members since 2004, offering assistance to lessen the burden for those who need it most. The Semper Fi Fund's streamlined structure keeps overhead Charity Watch, and a "Four Star" rating from Charity Navigator.
The Semper Fi Fund has given more than 73,000 grants totaling $92 million+ to over 11,800 service members and their families. For more information visit https://SemperFiFund.org/.