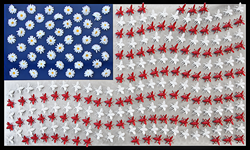 One never knows what one is going to do. One starts a painting and then it becomes something quite different. -Pablo Picasso
West Palm Beach, FL (PRWEB) June 24, 2014
On a long overseas flight home from Europe, Cheri Mittermaier suddenly had a vision. In her mind's eye, she saw the United States flag, made up entirely of bees. Mittermaier put this idea aside for about one year.
More than likely, Cheri was influenced by the sculpture "Bees For Sunset Park" located at the New York subway station, by sculptor, Christopher Russell. As you may know, the gate to the entrance is adorned with bees on a honeycomb base.
An opportunity to resurrect her idea about the bee flag came about last winter. It was at this time that the symbolic meaning of the bees became clear. Bees are warriors sustaining their hive and our soldiers are symbolic of this action. For many years, Cheri, has wanted to do a commemorative artwork honoring our troops.
Mittermaier's first thought was to make this project out of bronze. She began constructing bee bodies out of clay, with the notion that the wings and legs would be welded on later. This was a crazy idea because it would have required one thousand two hundred individual welds. Therefore, Cheri, decided to make one entire strip of bees and mold it, turning each strip in the opposite direction to make up the flag. After further consideration, she realized this would have been a nightmare to cast, causing, Mittermaier, to abandon the idea of bronzing her sculpture.
Cheri, began working on a sculpture using resin bees, mounted to aluminum in the shape of a flag. They are painted red and white for the stripes of the flag, with white daisies on a blue background for stars. The sculpture "Wings" can be seen at a gallery in Lake Worth, FL in the month of July.
"United we stand, divided we fall. Let us not split into factions which must destroy that union upon which our existence hangs." Patrick Henry's final speech March 4, 1799.
Cheri Mittermaier has been an active artist since 2005. She studied under 24 different artists in a four-year period. Cheri has exhibited her artwork nationally and internationally, and has shown in three museum group shows. She became incorporated in 2011. Mittermaier, is an Artist Portfolio Member of the Cultural Council of Palm Beach County. To learn more, please visit cherimittermaier.com.
Cheri was born in 1963 in Indiana, USA. She graduated from Purdue University with a Bachelor's degree in Psychology as well as a concentration in Fine Arts and Humanities.