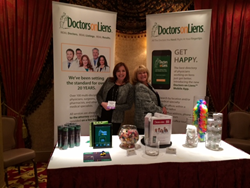 Doctors on Liens™ will continue to be at the forefront of that innovation, and Parker and Ditto will continue to lead the way.
Los Angeles, CA (PRWEB) June 19, 2014
We've all heard the expression "behind every great man there's a great woman", but when it comes to Doctors on Liens™, Southern California's premier medical marketing firm, the expression should be rewritten to "behind every great woman… there's another great woman." That's what happened when Geri Ditto joined Samantha Parker's now famous Doctors on Liens, Inc. seventeen years ago in June 1997, and together they've revolutionized the medical marketing business as we know it.
At first blush, one might wonder how these two got together in the first place. Samantha, who grew up in New York City, is the more straightforward and direct of the two. Geri, who grew up in Simi Valley, is the more thoughtful and nurturing. But instead of clashing, these two personalities actually compliment each other perfectly, especially in the often complex world of medical liens. "We like to think of ourselves as 'good cop, bad cop,'" says Ditto. "I'm there when you need a calming voice to settle things down, and Sam's there when you need a more forceful voice to stir them up."
But one thing these women have never differed on is their shared business philosophy, which can be summed up in two words: Quality and Service. Parker, who single-handedly started the company in 1993 and continues to serve as its President and CEO, put it this way, "Our business model is very simple. We find the best doctor in any given area and we give them the level of exposure, protection, and representation that they deserve." Adds Ditto, "Unlike some of our imitators, we don't believe in 'tiers' of service, especially when they're subscription based. 'Preferred Doctors', 'Featured Doctors', 'Spotlight Doctors' – it's hard to know what any of it means. As far as we're concerned, there's the best doctors… and then there's everyone else." Maybe that's why doctors have waited as long as seven years to get on Doctors on Liens™ exclusive list.
With a partnership that's outlasted most marriages, Parker and Ditto are certainly proud of what they accomplished, but, more importantly, they're excited for what lies ahead. As the industry grows and develops, Doctors on Liens™ will continue to be at the forefront of that innovation, and Parker and Ditto will continue to lead the way.
Doctors on Liens™ is an innovator in the medical lien specialty referral industry and has forged close relationships with both legal firms and medical practices over the past 20 years. Doctors on Liens™ features medical specialties including board certified orthopedic surgeons, neurologists, general practitioners, psychologists, and chiropractors. Each medical office is independently owned and operated and all appointments can be conveniently scheduled directly with the facility.