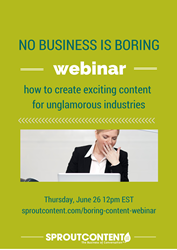 Content is only as boring as you make it.
Pensacola, FL & Denver, CO (PRWEB) June 20, 2014
Content creation is exploding across all industries as more business owners and marketers employ inbound marketing strategies. According to a study by the Content Marketing Institute, 73% of B2B marketers said they are producing more content now compared to one year ago. But how can marketers make sure that content is what their audience wants, especially if they work in a technical or heavily regulated industry? SPROUT Content, a content marketing agency, is hosting a free webinar that will provide ideas for creating exciting and inspiring content for traditionally "boring" industries.
The webinar No Business is Boring! How to Create Exciting Content for Unglamorous Industries on Thursday, June 26, 2014, at 12pm EST will demonstrate how "behind-the-scenes" industries such as manufacturing and telecommunications have a unique opportunity to talk to their prospects and educate them in a way that few other companies in their space do. B2B businesses that reveal their voice, personality, perspective and expertise in their content make stronger and lasting connections with their audiences. They are able to share their story with the world and, in turn, drive leads and sales.
In the webinar, SPROUT Content co-founders Dechay Watts and Debbie Williams will discuss how they inspire their clients whose products and services range from paper converting to document storage to agile consulting to think about their content differently. It's a conversation they have with every client. "We like to say that SPROUT Content specializes in 'boring' content," said Watts. "That doesn't mean we create content that puts people to sleep, but rather that we help businesses express how their products and services actually help people rather than just spouting off lists of facts and figures. By making your content relatable, you make it cravable."
In the webinar, Watts and Williams will share:

Content marketing success stories from a range of B2B companies
Ways to start thinking like a P2P (person-to-person) brand instead of the traditional B2B or B2C models
A live brainstorming exercise to help generate blog topic and other content ideas
Tips on how to use content marketing to break the mold of conventional industries
SPROUT Content helps its clients tell an authentic and consistent story that leaves an indelible mark on their target market while meeting company goals and delivering results. In order to do that, each piece of content must appeal to the appropriate audience. "Our webinar is designed to show businesses that you don't have to be a major consumer brand like Red Bull in order to engage with your audience," said Williams. "Content is only as boring as you make it."
Register for the webinar today and post questions and comments to SPROUT Content's Twitter account using the hashtag #boringcontent. By doing so and attending the webinar, attendees will be entered to win a copy of Watts' and Williams' content marketing book Brands in Glass Houses.
Webinar details:
No Business is Boring! How to Create Exciting Content for Unglamorous Industries
Thursday, June 26, 2014
12pm EST
About SPROUT Content
Dechay Watts is Chief Strategy Officer and Debbie Williams is Chief Content Officer at SPROUT Content, a content marketing agency with locations in Pensacola, FL and Denver, CO. Watts and Williams are co-authors of the book Brands in Glass Houses: How to Embrace Transparency and Grow your Business through Content Marketing available for purchase at Amazon or Barnes & Noble. Content marketing agency SPROUT Content is a certified HubSpot agency partner and winner of the 2013 HubSpot Partner award for annual website traffic growth.