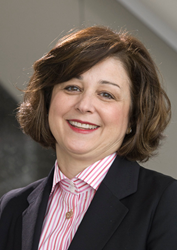 Successful communities thrive when there is a healthy mix of transportation choices.
Kansas City, MO (PRWEB) June 19, 2014
According to Liz Rao, vice president and chair public transit services for HNTB Corporation, public transportation is the "final link" in a truly multimodal, modern transportation network.
Today is National Dump the Pump Day, created by the American Public Transportation Association. In a new viewpoint, published on HNTB's website, Rao says recent spikes in nationwide public transportation ridership clearly show the day's relevance. "Successful communities thrive when there is a healthy mix of transportation choices," she said.
"Americans took a staggering 10.7 billion trips on public transportation in 2013, which is the highest that number has been in 57 years," she added. HNTB's own America THINKS research last year revealed 76 percent of Americans are open to taking public transportation over driving, up 7 percent from 2010. According to Rao, one of the most viable options to provide Americans with new convenient, cost-effective transit choices is the advent of bus rapid transit, which is being introduced in many cities across the country, including Kansas City, Missouri; Pinellas County, Florida; and San Diego.
To learn more, read Rao's viewpoint and listen to related audio remarks on http://www.hntb.com.
HNTB Corporation is an employee-owned infrastructure firm serving public and private owners and contractors. Celebrating a century of service, HNTB understands the life cycle of infrastructure and addresses clients' most complex technical, financial and operational challenges. Professionals nationwide deliver a full range of infrastructure-related services, including award-winning planning, design, program delivery and construction management.