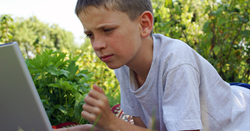 Parents cannot be bystanders in the fight against cyber-bullying, they need to be monitoring their children, and they also need to educate them on the importance of internet safety.
London, UK (PRWEB) June 19, 2014
Parents are flooded with news about teenagers committing suicide because of cyber-bullying. And as concerned parents, they might jump to conclusions about their child's behavior or online activity while the recent numbers show that almost 85% of parents let their children go online unmonitored. Does that make every child a cyber-bully? These questions are answered in NoBullying's article, released today.
Children nowadays grow up in a generation where everything is as easy as "few clicks" of a computer mouse. Instead of going to the library to complete their homework, they can go online and search the right information on the internet. Everything is easy, so is socializing. They can use the internet using their mobile phones, tablet, laptop and their personal computer. With the use of social networking sites, it is easy to know a person's whereabouts in a matter of seconds.
It is also easy to discover something scandalous, disturbing, shocking contents from these websites that can affect a teen's behavior, judgment towards others and even their personality. It is a parent's job to control their child's awareness of the dangers of the internet.
According to statistics mentioned in the article, young people are attached to modern technology to the point that checking their mobile phone is the very first thing they do in the morning, also, 58% of 12 year-old kids own a mobile phone, 93% of teens and adults ages 12-29 go online and only 1% of 12-15 year-old children in the United Kingdom do NOT have access on the internet.
The guide also lists the recent bullying and cyber bullying statistics of 2013 and 2014 as well as means for parents to talk to their children on the use of the internet and the dangers of cyber bullying whether the child is the bully or the victim.
As for internet safety tips, the guide links to the most essential ways of monitoring a child's internet use without invading his/her privacy in any way, shape or form. It also asks parents to always keep an open line of communication with their children and to create a safe space where a child or a teen can say anything and still feel loved, respected and understood. As with all aspects of cyber bullying, communication, understanding and concise actions are the most important ways of fighting it and not executing a "bully revenge".
Macartan Mulligan, Co-Founder of NoBullying.com, said "Parents cannot be bystanders in the fight against cyber-bullying, they need to be monitoring their children, and they also need to educate them on the importance of internet safety."
He added that parents and teachers should make a point to educate the younger generations about the sad outcome of bullying online and offline. According to Mulligan, it is quite imperative to press for more firm laws condemning all acts of bullying and harassment.
NoBullying.com features many pages dedicated to parents, teens, teachers, health professionals as well as posts related to cyber safety and the latest news about law making concerning curbing Bullying worldwide as well as inspirational Bullying Poems and famous Bullying Quotes.
The website regularly updates its bullying statistics and cyber bullying statistics as it is essential to understand how widespread the bullying epidemic is. It also regularly runs cyber bullying surveys and questionnaires to get recent updated statistics on everything related to cyberbullying.
He also added that anyone suffering from bullying in any form or way can always find advice and help on the NoBullying website – but if anyone is suffering from severe bullying or cyber bullying, the best thing is to talk to someone locally – a parent, teacher or local organization that has been set up to help with specialized councilors to deal with this topic.