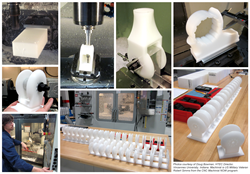 We were inspired to make this donation, not only to assist those is need of the prosthetics, but also to champion the students of Calera High School and their teacher for the incredible work they have done.
Orchard Park, NY (PRWEB) June 23, 2014
Curbell Plastics, Inc., one of the nation's premier suppliers of plastic sheet, rod, tube, film, adhesives, sealants and prototyping materials, recently donated $18,000 of plastic that will be used by Alabama High School students to create lightweight, removable prosthetic limbs for amputees in Honduras. The project is a joint venture of the SME Education Foundation, Calera High School and Vincennes University HTEC program. Students in the project will travel to Honduras in June to deliver and help fit amputees with the limbs.
The prosthetic limb program is the brainchild of middle/high school teacher Brian Copes who teaches at Calera High School, an SME Education Foundation PRIME (Partnership Response In Manufacturing Education) school in Calera, AL. Copes challenges his students to use manufacturing and engineering principles to create useful items that also serve the public good. The idea to develop prosthetic limbs was a result of a guest speaker in the bio-medical engineering field who shared details about the expense and logistical problems for amputees in developing countries.
Last year, students designed and manufactured prosthetic limbs with the assistance of an artificial limb specialist, from parts that can be found on a Toyota Corolla, one of the most widely used vehicles in developing countries with the idea that replacement parts would be available if needed. Copes and his students visited Honduras and donated several limbs to candidates.
While functional, the new limbs were heavy with the materials used from the car and an alternative was necessary. After building a prototype using lightweight plastic, Calera High School, working through SME Education Foundation, contacted Curbell Plastics to request a donation of plastic to enable them to produce several prosthetic limbs. The new limbs use a combination of plastic and rubber. Because they are high-wear materials, they can withstand sand and water, unlike a typical prosthetic limb made of aluminum, carbon fiber or titanium. Vincennes University HTEC program assisted the students by providing the technical resources in the manufacture of the prosthetic limbs.
The cost to manufacture is significantly less compared to a typical prosthetic at $60,000 each. Nearly 80 percent of amputees worldwide reside in developing countries where the cost of traditional prosthetic devices are significantly beyond the means of most.
According to Tracy Schiedel, director of marketing of Curbell Plastics, Inc., "We were inspired to make this donation, not only to assist those is need of the prosthetics, but also to champion the students of Calera High School and their teacher for the incredible work they have done. Mr. Copes has truly brought real world challenges into his classroom and given his students a sense of accomplishment on so many levels. It is a fine example of demonstrating to students what kind of rewards a career in engineering or material science might provide in the future."
Rodney Grover, senior development officer at the SME Education Foundation added, "Calera High School offers an exemplary manufacturing program, one that we are proud to support and recognize through our PRIME initiative. Creative approaches such as this can inspire a new generation of students to pursue careers in technical fields that are necessary for many U.S. based companies."
Mr. Copes and seven high school students will travel to Honduras from June 24 through July 4 this year. They will work with a local clinic to fit approximately 20 limbs for amputees on a first come, first served basis.
According to Copes, "I truly believe that my students get as much or more out of this program than those who benefit from the prosthetic limbs. The program helps kids learn new skills, new cultures and for some, opens up a new world for their future. We are grateful that the SME Educational Foundation was able to connect us with Curbell Plastics and for their generous donation to enable us to improve the lives of our new friends in Honduras."
About the SME Education Foundation
The SME Education Foundation is committed to inspiring, preparing and supporting the next generation of manufacturing engineers and technologists in the advancement of manufacturing education. Created by SME in 1979, the SME Education Foundation has provided more than $33 million since 1980 in grants, scholarships and awards through its partnerships with corporations, organizations, foundations and individual donors. Visit the SME Education Foundation at smeef.org. Also ManufacturingisCool.com, our award-winning website for young people. Follow @mfgeducation on Twitter or on Facebook at facebook.com/SME.Education.Foundation
About Curbell Plastics, Inc.
Curbell Plastics, Inc. strategy of investing for the long term and focus on customer needs has led the organization to grow from a small machine shop to one of the nation's leading suppliers of plastic materials serving commercial and industrial customers since 1942. Curbell not only supplies plastic materials in nearly every form for thousands of commercial businesses, Fortune 500 companies, and government agencies but also provides innovative services, creative problem solving, and next-day delivery. Curbell Plastics has ISO 9001:2008 certification for nine of their locations and corporate headquarters. A subsidiary of Curbell, Inc., Curbell Plastics is a privately held company with a 70-year history and an entrepreneurial spirit that guides its business headquartered in Orchard Park, New York. More information is available at http://www.curbellplastics.com or call 1‐888‐CURBELL (1‐888‐287‐2355) to speak with a Curbell Plastics' representative.