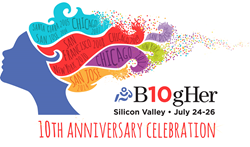 Belmont, CA (PRWEB) June 19, 2014
One year ago, LeanIn.Org previewed its new Lean In Circles for hundreds of attendees at the BlogHer '13 annual conference in Chicago. Today, BlogHer, Inc., creator of the largest conference for bloggers in the nation, announced that LeanIn.Org will bring Lean In Circles back to BlogHer, as part of BlogHer's 10th Anniversary Conference in Silicon Valley this July 24-26. The Circles presentation will be led by Lean In's Co-founder and President, Rachel Thomas.
In 2013, the Lean In Circles breakout session was a resounding hit with BlogHer's attendees, top media and consumer influencers who have come to expect connection, community-building, and rich networking as a part of the BlogHer Conference experience. At BlogHer '14, the Lean In Circles will be part of the very first breakout session on Friday, July 25th, laying the foundation for continued learning, networking and inspiration throughout the event.
Lean In Circles are small self-organizing peer groups that meet regularly to learn and grow together. Circles range from a conglomerate of dozens of Circles in various big cities to a group of domestic workers in the Bay Area to members of all branches of the military to Circles on over 300 college campuses.
LeanIn.Org is the nonprofit organization co-founded by Facebook COO Sheryl Sandberg, a BlogHer '13 keynote speaker, to empower all women to achieve their ambitions. LeanIn.Org offers inspiration and support through an online community, free expert lectures and Lean In Circles. More than 450,000 women and men have joined the LeanIn.Org community and started more than 17,500 Lean In Circles in over 70 countries since the organization was launched in March 2013 following the release of the bestselling book, Lean In: Women, Work and the Will to Lead. LeanIn.Org is a private operating nonprofit organization under IRS section 501(c)(3).
To register for BlogHer '14, please visit: https://www.xpressreg.net/register/blog074/landing.asp
To learn more about Lean In Circles, please visit:
http://www.leanin.org/circles/
About BlogHer:
BlogHer (http://www.blogher.com) is the leading cross-platform media network created by, for and with women in social media. BlogHer delivers quality advocacy at scale for brands seeking to engage in authentic and persuasive dialogue with moderated communities led by more than 7,000 leading influencers who reach an audience of 100 million across premium blogs, Pinterest™, Facebook®, Twitter™ and social media. Founded in February 2005 by Elisa Camahort Page, Jory Des Jardins and Lisa Stone, BlogHer publishes and syndicates news, information, advice, recommendations and research on women in social media across interest areas as well as on BlogHer.com. The Company also hosts the world's largest conferences for women in social media.

Pinterest is the registered trademark of Pinterest, Inc., Facebook is the registered trademark of Facebook, Inc., and Twitter is the registered trademark of Twitter, Inc. Such trademarks are used for reference purposes only; Pinterest, Facebook and Twitter have not endorsed or sponsored BlogHer, Inc.