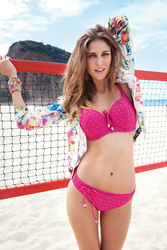 ...blue swim collections have seen the biggest sales spike, up 4% against last year.
Desborough, Northamptonshire (PRWEB) July 01, 2014
Leia retail via their online store, leialingerie.com, as well as through boutiques in York, Cardiff and Kent's Bluewater shopping centre. Their collections include brands such as Freya, Fantasie, Wacoal, b.tempt'd, Elomi and Huit. And many of their best-selling swim styles feature floral prints and hot shades of colour. Leia went on to reveal how blue swim collections have seen the biggest sales spike, up 4% against last year.
Santa Rosa from Fantasie has become one of Leia's most popular floral styles since hitting the shelves just over two weeks ago. This catwalk-inspired swim collection features a digital floral print on an underwired gathered full cup bikini. The top is available from a 30D to 38H cup, while the matching classic brief goes from XS to XL.
The Santa Rosa collection also includes an adjustable-sided tankini, on offer up to a 38H, and a gathered swimsuit available up to a 40GG - both incorporating a concealed underwire.
One of the most popular bold-coloured ranges on Leia is Spirit from Freya Swim. This crochet-based collection of ladies' swimsuits launched in May and includes a hot pink sweetheart padded bikini top and bikini brief. The sweetheart padded look is designed to enhance natural shape and lift the bust.
Among Leia's other top swim sellers are Kashmir and Pollonia, both from Fantasie.
In addition to announcing a seasonal boost in sales, Leia also sought to remind women of the importance of choosing the right fit. They describe how symptoms of being in the wrong-sized swim bra include loose straps, underwires standing out from the chest, breasts spilling out of the cups and an underband that rides up at the back.
Nigel Addison from Leia added, "Choosing the right swimwear can be daunting, so we'd always advise that you have a professional bra fitting to ensure you are wearing the right size for you and that it fits you perfectly. It's great to see that Freya and Fantasie's new swimwear styles are proving such a hit with our customers so soon as they hit the store."
About Leia
Leia has over ninety years of lingerie design experience and allows women to buy lingerie online and buy swimwear online – all whilst offering an affordable boutique experience. Sizes range from an A to a K cup. Leia principally retail through an online store, but they also have boutiques in York and Cardiff, as well as Kent's Bluewater shopping centre. To find out more about Leia, visit http://www.leialingerie.com.