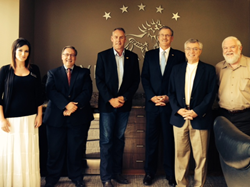 Avitus Group helps Montana industry thrive. Helping our clients and our state's economy as those businesses grow is a win for Montana. - Dianne Parker, Avitus Group Public Relations Manager
Billings, MT (PRWEB) June 20, 2014
Ryan Zinke, the Republican candidate for Montana's U.S. Representative seat, visited Avitus Group's Billings Operations Center June 19th, 2014 to discuss business in Montana with one of the state's leading employers. He toured Avitus Group's operations center and met with the board of directors. Unleashing the power of industry is one of Zinke's key platform issues and Avitus Group is one of the state's top 10 largest employers. The company works with more than 350 Montana businesses in a wide variety of industries. Avitus Group provides the back office services for other companies, services like payroll, bookkeeping, taxes, online marketing and IT.
"Because of our robust services, a business owner can focus on growing their business and increasing profits instead of the necessary, yet burdensome administrative hassles. We help Montana industry thrive, and our clients are grateful we exist. Helping our clients and our state's economy is a win for Montana." - Dianne Parker, Avitus Group Public Relations Manager.
Zinke's key platform issues focus on achieving energy independence, reducing government intrusiveness and unleashing the power of industry. "We have to get government out of the way of business. We need to cut burdensome regulation and allow people to succeed." Ryan Zinke, Montana U.S. Representative Candidate, R.
"Most entrepreneurs have too much on their plates to spend time on administrative tasks. Avitus Group handles all back office hassles, letting business owners get back to what's important: growing the business."- Ken Balster, President Avitus Business Services, Inc.
The visit follows a recent endorsement for Zinke from the Montana Chamber of Commerce. "A key job of the Montana Chamber is to review election decisions that affect business and economic development. We take that role very seriously and hope our review of the races helps voters better understand the issues and the candidates," said Webb Brown, President & CEO of the Montana Chamber. The Montana Chamber is the state's leading business organization. While serving as a State Senator from Whitefish, Zinke earned a 92% voting average on Montana Chamber priorities during the 2009 and 2011 legislative sessions. The U.S. Chamber has endorsed Zinke as well.
Ryan Zinke is a 3rd generation Montanan with family roots from Glendive to Bozeman and Whitefish. He is a 23 year veteran of the U.S. Navy and a former commander with SEAL Team Six. Zinke is a former Montana State Senator and a small business owner with an M.B.A. in Finance, M.S. in Global Leadership. He faces Democratic candidate John Lewis in the general election in November.
Avitus Group is a nationwide company, based out of Billings, Montana, that helps other companies with administrative hassles. With Avitus Group, all of the necessary, yet burdensome functions of the business become Avitus Group's responsibility, so the business can focus on what they do best, grow and increase profits. Avitus Group serves clients nationwide through 10 regional office locations from California to Florida. The company also serves international clients through partner locations in Europe, Canada, China, England, India, Japan and Singapore.