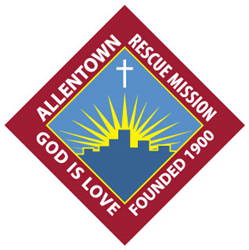 "Their shared dedication and commitment to lifting our men up through the value of work is a blessing we celebrate not just today – but everyday," said Mr. Mauro, Clean Team Manager.
Allentown, PA (PRWEB) June 26, 2014
Eastern Metal Recycling (EMR) and the Allentown Rescue Mission represent two entirely different types of organizations, but they share one thing in common: both take discarded resources and turn them into something very valuable. That may explain why their labor partnership, which just celebrated its third anniversary, works so well.
The Mission's Clean Team, headed by Michael Mauro, and EMR Manager Scott Williams marked the milestone with a special check presentation ceremony at the company's Allentown headquarters. Since the homeless shelter started providing labor to the scrap recycler in 2012, more than 25 formerly homeless men have learned – and earned – the value of a paycheck through their work at EMR. Some have even found permanent employment at the facility.
Mission workers perform a variety of tasks at EMR, including yard clean up, metal sorting, tire/wheel separation, draining vehicle fluids, and parts removal. All work under the supervision of EMR management, which has contributed $7,200 in sponsorship monies to the rescue mission over the past three years – and over $35,000 in paid work conducted on site since the two organzation began their partnership.
"EMR remains one of our top customers for the Clean Team," said Mr. Mauro. "Their shared dedication and commitment to lifting our men up through the value of work is a blessing we celebrate not just today – but everyday. We look forward to building on that foundation."
The Allentown Rescue Mission launched the Clean Team several years ago as a way of teaching men workplace values. Modeled after programs like Ready, Willing & Able in New York, the initiative provides homeless men with opportunities to re-enter the workforce, while also helping companies and organizations across the Lehigh Valley access hard-working labor at reasonable rates. Clean Team projects vary, ranging from activities like office moves and event labor, to landscaping, property clean-up, demolition and more.
For more information, interested organizations are encouraged to contact the Clean Team at 1-610-740-5500, extension 32, or go online at http://www.cleanteampa.com.
About Allentown Rescue Mission
Founded in 1900 by Obadiah Becker, the Allentown Rescue Mission has addressed the root causes of homelessness across the Lehigh Valley for more than a century, providing rescue, rehabilitation and restoration through faith-based programs based on accountability and compassion. It operates as a non-denominational, Christian, social services organization that delivers critically needed goods and services to homeless and impoverished men. Although not a church, the Mission does work closely with many different churches that are concerned about poverty and homelessness. It does so without regard to race, color, creed, national origin or religion.