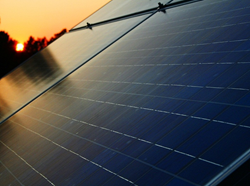 Our institution continues to focus on enhancing its solar financing program to meet the growing and dynamic needs of the solar industry.
Boston, MA (PRWEB) June 20, 2014
Admirals Bank recently garnered much media attention after announcing is strategic partnership with SunPower to provide $200 million in funding for residential solar installations across the United States. In addition, Admirals Bank works with over one thousand solar installers to provide financing to their customers who want to take full advantage of the benefits of solar ownership.
"Our institution continues to focus on enhancing its solar financing program to meet the growing and dynamic needs of the solar industry. In just the past six months, our Bank has expanded its consumer loan product offerings and forged a strategic partnership with one of the most respected companies in the industry," said Nicholas W. Lazares, Chairman and Chief Executive Officer of Admirals Bank. "Once it was announced that PV America would be held in Boston, we viewed it as an excellent opportunity for us to unveil our innovative and industry-changing products and services."
Many solar installers have leveraged the Bank's solar loans to increase sales and installation volume. Solar installers may use their preferred equipment and there are no volume requirements associated with the Bank's loan program. Once registered with Admirals Bank, installers are granted access to a suite of online sales tools that allow them to prequalify customers and measure energy savings against loan payments. Solar Installers can register for the Bank's loan program online at http://www.admiralsbank.com or at the Bank's booth, #531, during the PV America expo.
Admirals Bank solar loan products offer homeowners a variety of low monthly payment options and the ability to purchase a residential solar system with no money required upfront. Homeowners are able to apply for up to $40,000 for a home solar system without any home equity or appraisal qualification requirements. The loan may be paid off early without penalty, and additional improvements necessary prior to the solar installation such as roof repair, tree cutting or an electrical system upgrade, can all be financed with the same loan. All loans are subject to credit approval and a lien will be placed against the property in first or second position.
"Massachusetts and California are among several other solar-conscious states where the concept of going solar is becoming increasingly more appealing," Mr. Lazares continued. "Being based in Boston, and maintaining a loan production office in San Francisco places us in ideal markets to strengthen and expand our lending focus in the solar industry."
Admirals Bank maintains a Renewable Energy Lending Business Development Center in San Francisco, CA and has recently expanded its business hours to complement this location and further extend the Bank's commitment to servicing the West Coast marketplace. Homeowners can be pre-qualified in minutes by calling (800) 715-8472 during the following hours:
Monday-Friday: 9AM – 1 AM (EST)
Saturday: 9AM – 9PM (EST)
Sunday: 11AM – 7PM (EST)
For more information regarding Admirals Bank's Renewable Energy Lending program please visit its booth, #531 at PV America 2014 to speak with a dedicated member of the team.
Not attending PV America? Call 800.715.8472 or visit http://www.admiralsbank.com to learn more.
About Admirals Bank
Admirals Bank is a federally-chartered financial institution headquartered in Boston, MA with a Regional Banking Center in Providence, RI, and a Renewable Energy Lending Center in San Francisco, CA. Since 2012 Chairman and CEO, Nicholas W. Lazares, has focused the Bank's home improvement lending efforts in the residential solar and renewable energy industry, opening Admirals Alternatives, the Renewable Energy Lending division of Admirals Bank. Admirals Bank also remains a leading national provider of the Title I Home Improvement Loan for a variety of other home improvements. Admirals Bank offers customers additional home borrowing solutions such as residential mortgages and the FHA 203(k) Loan. In addition, Admirals Bank is an active acquirer of commercial real estate loans in the secondary market with over $1 billion in acquisitions since 2010. Admirals Bank has also introduced Bespoke Banking to the financial industry, which is individually tailored, highly customized, concierge banking. Bespoke Banking offers checking and savings accounts, which can be conveniently opened and maintained online or via a mobile device. Admirals Bank is an Equal Housing Lender and Member FDIC.
*No purchase is necessary to enter the iPad drawing.