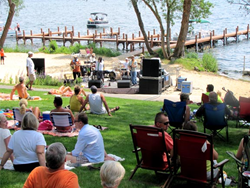 ... It's a great time to relax, enjoy delicious food, refreshing cocktails and family and friends.
Green Lake, WI (PRWEB) June 19, 2014
Welcoming families and friends for the best lakeside summer party on Green Lake, Heidel House Resort & Spa, managed by Marcus Hotels & Resorts, will host its annual Sunsplash celebration on Saturday, July 5 from 11 a.m. to 6 p.m. Gather family and friends for live music, delicious food and specialty cocktails this Fourth of July weekend.
Milwaukee's hottest "World Beat/Reggae" band, In Black-N-White, will return at noon to kick off the festivities. Having performed at popular venues throughout the Midwest, including Summerfest in Milwaukee, Wis. and Navy Pier in Chicago, Ill., this six-piece band continues to bring crowds to their feet. After jammin' to reggae, Road Trip will turn the party up with rock music from 3:30 p.m. to 6 p.m. The popular six-piece band from Oshkosh, Wis. plays current and classic rock hits that will keep everyone dancing to their favorites.
The culinary team at Heidel House Resort will offer a variety of dishes to fuel guest's afternoon of fun. There's nothing like the smell of a freshly grilled burger on a hot summer day – the scents of favorite summertime foods including Heidel Burgers, Wisconsin Brats and Boneless BBQ Rib Fries Sandwiches will surely tempt taste buds. Corn on the cob with assorted seasonings, chips and salsa and ice cream will also be readily available.
Sunsplash will offer a specialty drink menu including domestic and specialty draft beer as well as handmade summertime cocktails. Refresh with a mojito, Green Lake long island or margarita.
The annual Sunsplash event would not be complete without a tour of Big Green. The 60-foot Escapade yacht will offer half hour tours from noon to 5 p.m. for $4 per person. Lawn games and face painting will also be available for all to enjoy.
"We are very excited to once again host our popular Sunsplash event this Fourth of July weekend. Appealing to both our guests and neighbors, it's a great time to relax, enjoy delicious food, refreshing cocktails and family and friends," said Scott Krause, Heidel House Resort general manager.
Sunsplash is a free event; food and beverages will be available for purchase. Carry-ins are not welcome. Sunsplash will take place on the resort grounds behind the Main Lodge.
For more information, please call 920.294.3344 or visit http://www.heidelhouse.com.
About Heidel House Resort & Spa
Heidel House Resort has built on the lakeside getaway tradition since welcoming its first guests on a snowy New Year's Eve in 1945. Nestled on 20 wooded acres on the shores of Wisconsin's deepest inland lake, the full-service resort offers numerous amenities including 190 guest rooms, 18,000 square feet of indoor meeting space and a luxurious spa. Heidel House Resort has become a favorite Midwestern destination for friends, families, businesses and social groups to enjoy a tranquil environment, year-round recreation and first class service. For more information, please visit http://www.heidelhouse.com.
About Marcus Hotels & Resorts
Marcus Hotels & Resorts is a division of The Marcus Corporation. With the addition of the Heidel House Resort & Spa, the company owns and/or manages 19 hotels, resorts and other properties in 10 states. A force in the hospitality industry, Marcus Hotels & Resorts provides expertise in management, development and historic renovations. The company's portfolio includes a wide variety of properties including city center meeting hotels, upscale resorts and branded first-class hotels. For more information on the latest news and updates, please visit: http://media.marcushotels.com and follow the company on Facebook and Twitter (@MarcusHotels).