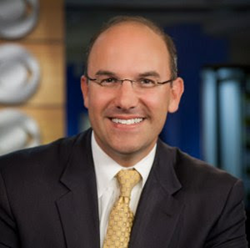 San Diego, CA (PRWEB) June 19, 2014
Juan Zarate will present the keynote speech at Kyriba Live!, the annual conference for clients of Kyriba, the leader in cloud-based treasury management technology. Mr. Zarate is a senior adviser at the Center for Strategic and International Studies (CSIS), the senior national security analyst for CBS News, a visiting lecturer of law at the Harvard Law School, and a national security and financial integrity consultant.
Mr. Zarate served as the Deputy Assistant to the President and Deputy National Security Advisor for Combating Terrorism from 2005 to 2009, and was responsible for developing and implementing the U.S. Government's counterterrorism strategy and policies related to transnational security threats. He was the first ever Assistant Secretary of the Treasury for Terrorist Financing and Financial Crimes, where he led domestic and international efforts to attack terrorist financing, the innovative use of Treasury's national security-related powers, and the global hunt for Saddam Hussein's assets.
Mr. Zarate will also sign copies of his book, Treasury's War: The Unleashing of a New Era of Financial Warfare, which will be distributed to all conference attendees.
Kyriba Live! will be held at the Omni Hotel, San Diego, on September 9 and 10, 2014. For more information on attending the conference, please contact Tracey Kretch, senior manager, client marketing at tketch(at)kyriba(dot)com or 858 263 2215.
About Kyriba
Kyriba is the global leader in Proactive Treasury Management. Our software-as-a-service (SaaS) treasury and risk solutions enable finance teams to optimize their cash, manage their risk, and work their capital. Our award-winning cash, treasury, payment, risk management and supply chain finance solutions are used by more than 800 organizations worldwide, including Amway, Electronic Arts (EA), PulteGroup, Inc., and Qualcomm, to unlock new business value, drive corporate growth and ensure compliance. For more information on how to be more proactive in your treasury management and drive business value, contact treasury(at)kyriba(dot)com or visit http://www.kyriba.com.