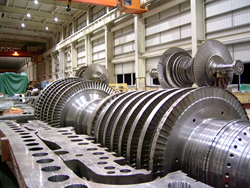 We feel this latest offering from Cascade MVS will take reliability to a whole new level.
Houston, TX (PRWEB) June 24, 2014
For more than ten years Cascade MVS has provided industry leading vibration analysis and alignment services to thousands of customers in the greater Houston area and across the country. "Cascade has seen significant growth in product sales in recent years and our service offerings are expanding as well. We have added key personnel to our staff in an effort to provide a unique service offering to a changing marketplace," states Troy Broussard, President of Cascade MVS. "The addition of Henry Martinez will allow us to provide consulting services far above and beyond the traditional portable vibration market," explains Troy.
Enrique "Henry" Martinez has joined the Cascade family and bringing over 25 years of machinery protection and condition monitoring expertise. Henry started his career with Bently Nevada, with 10 years of worldwide field service. He has also worked with Emerson/CSI, Metrix Instruments and recently at Siemens Energy. Henry's expertise goes well beyond the technical aspect of predictive maintenance programs and looks at the program as whole. "I have developed an exclusive site survey and Recommendation Matrix which provides our customers with a road map to increase the integrity of their critical machinery significantly improving plant reliability. My system can provide a positive impact for customers with very mature programs and those in the early stages of PdM by providing a simple cost effective platform for success," says Henry.
"We feel this latest offering from Cascade MVS will take reliability to a whole new level," states Henry.
Contact us today for a free evaluation of your program. http://www.cascademvs.com
About Cascade MVS
Cascade MVS bridges the gap between manufacturers of machinery condition monitoring instrumentation and organizations leveraging the power of asset health management products. Our goal is to be a trusted partner for our customers in order to enhance the performance of their business and provide them with piece of mind knowing their machinery is running smooth. By providing innovative solutions along with industry leading customer service, our customers enjoy effective, affordable asset health management programs with the first class support they deserve. Our premier group of consultants will work to establish an asset health management system that fits your business and budget in order to maximize your return and keep your assets producing revenue.
Specialties: Laser Alignment, Shaft Alignment, Geometric Alignment, Problem solving utilizing vibration analysis, rotor dynamics, modal analysis, operational deflection shape (ODS), field balancing, bearing load calculations and modeling.
For more details, visit http://www.cascademvs.com.