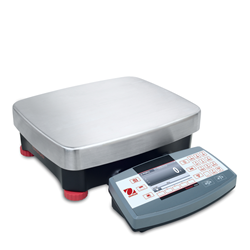 Parsippany, New Jersey (PRWEB) June 19, 2014
OHAUS Corporation, a leading manufacturer and marketer of high quality balances and scales, announces the launch of the Ranger 7000 compact bench scale. Packed with features and applications for industrial weighing needs, Ranger 7000 is the most advanced industrial scale in the OHAUS portfolio to-date.
Ranger 7000's ten advanced application modes include weighing, checkweighing, counting, filling, formulation, percent weighing, dynamic weighing, display hold, density determination, and differential weighing. Ranger 7000 contains a 300 item library for storage of weighing, checkweighing, counting, and filling data and 30 item library for formulation data, ensuring abundant space for all data storage needs.
Ranger 7000, built to withstand heavy duty use, has a die-cast sealed metal indicator and IP54 cast metal housing, which protect it from the harsh elements often associated with industrial environments. This modular scale's display can be separated from the platform and bench or wall-mounted with the optional mounting kit accessory.
This technologically advanced bench scale is powered by OHAUS' SmarText™ software, which propels the operation of the scale through the backlit display and navigation panel that is comprised of a keypad with 5 quick, 8 function, and 12 alphanumeric keys and a 4.3 inch graphic display.
Ranger 7000 comes standard with RS232 and USB ports. Additional connectivity options include a second RS232, Ethernet, 2nd platform, 2 In/4 Out digital I/O connectivity, and standard USB host port for bar code scanner or keyboard. Through the RS232/Ethernet and barcode scanner, a complete inventory control system can be set up through a single scale, considerably reducing the investment associated with more complex systems.
Strain gauge models have a 75,000d display resolution while magnetic force restoration (MFR) models have a 350,000d display resolution. All models are legal-for-trade approved and have one second stabilization times.
To learn more about the Ranger 7000, visit http://www.ohausranger.com.
About OHAUS Corporation
Headquartered in Parsippany, N.J., OHAUS Corporation manufactures an extensive line of high-precision electronic and mechanical balances and scales that meet the demands of virtually any weighing need. The company is a global leader in the laboratory, industrial, and education channels as well as a host of specialty markets, including the food preparation, pharmacy and jewelry industries. An ISO 9001:2008 manufacturer, OHAUS products are precise, reliable and affordable, and are backed by industry-leading customer support. For additional information, contact OHAUS Corporation at 973-377-9000, or visit http://www.OHAUS.com.
For more information contact:
Amy Keitel
OHAUS Corporation
Amy.keitel(at)ohaus(dot)com