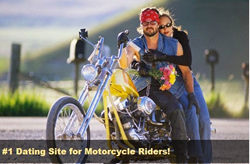 Los Angeles, California (PRWEB) June 20, 2014
While the whole world's enthusiasm towards sports is being completely drawn to the World Cup, which is being contested right now in Brazil, world's largest biker dating community, BikerKiss.com, carried out a survey to see what kind of sport prevails specifically among bikers.
According to the result that BikerKiss received from its members, motorcycle sport, which encompasses all sporting aspects of motorcycling, mostly motorcycle racing, got the most votes. It is no wonder that nearly 32% of BikerKiss members listed it as their favorite sport since they are all motorcycle enthusiasts. "What's life without racing? It's the most fun thing I expect to do every day." said Alex, a gold member from Iowa, US, "I just can't live without it."
Basketball came second. About 19% of members stated that they like playing basketball in their spare time. Some bikers don't play basketball, but still gave their votes to it because they like watching the NBA. "It's a shame that we didn't win the finals," Darren, a huge basketball fan from the warm Miami, Florida, sighed with pity. Apparently he was referring to the NBA Finals that concluded a few days ago, "The Spurs are damn good though."
Although being at the top of world's most popular sports list, football/soccer ranked only the third among those biker singles (17%). "Soccer looks exciting, but it's nowhere near as exciting as football. American football, I mean," said Louis, an American member of BikerKiss. As an indication of the popularity of football in Europe, most European members voted for football.
The rest votes went to American football, baseball, tennis, golf, etc.
Since the majority of BikerKiss members are from the US, UK, Canada and Australia, the result might be kind of lacking in reliability if it is applied to "worldwide popularity of sports among bikers." However, it does give us some reference on the subject.