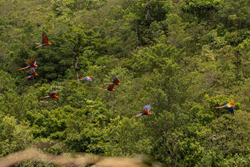 73 specimens have been set free in Palenque, Chiapas and 27 macaws now fly in Los Tuxtlas, Veracruz.
Cancun, Quintana Roo, Mexico. (PRWEB) June 20, 2014
Due to Experiencias Xcaret's initiative and persistence, the program to reintroduce the scarlet macaw into its natural habitats in Mexico has taken very successful steps a little over a year after the first specimens were liberated into areas where they had become extinct. Today 100 perfectly healthy scarlet macaws born in Xcaret Park fly free in Palenque, Chiapas and in Los Tuxtlas Biosphere Reserve in the state of Veracruz.
At the beginning of 2013, specialized studies revealed that the scarlet macaw is in danger of extinction as there were no more than 240 macaws living free in Mexico's jungles as a consequence of massive destruction of their habitat and illegal wildlife trafficking. In June 2014, the population has increased by 41 % thanks to the projects to reintroduce the species into Chiapas and Veracruz launched by Xcaret jointly with the Biology Institute of the National Autonomous University (UNAM), Acajungla A.C., La Otra Opción and Bosque Antiguo associations and Aluxes Ecopark Palenque.
Rodolfo Raigoza Figueras, wild fauna manager at Xcaret Park in Riviera Maya, stated that after a successful adjustment period, 27 macaws were set free this past weekend at the reserve called La Otra Opción in Los Tuxtlas region, Veracruz State, and that the conditions for survival are very favorable. He highlighted the important role of the UNAM and civil associations in this crusade and claimed that "the alliances being built are the new path to a successful preservation of our natural heritage."
This new reintroduction of Xcaret's scarlet macaws into Los Tuxtlas was coordinated by Patricia Escalante Pliego from the Biology Institute of the UNAM, an expert in ornithology, genetics and conservation ecology, who has been hard at work on the preservation of birds in Mexico for over 20 years.
The reintroduction of the macaw is sustained by Xcaret Park's successful scarlet macaw reproduction program which began over 22 years ago, as it provides healthy specimens at the perfect age to adapt to new surroundings and close to their reproductive stage to be reinserted into their natural habitats.
In order to reintroduced these macaws into Veracruz, genetics studies were carried out by experts from the American Museum of Natural History and Columbia University which determined that all the specimens belonged to the cyanoptera subspecies which inhabited the south-southeast jungles of Mexico.
So far, 73 specimens have been set free in Palenque, Chiapas and 27 macaws now fly in Los Tuxtlas, Veracruz. In both cases, more macaws are being prepared to be set free in the following months.
ABOUT XCARET
Xcaret Park in Riviera Maya is a majestic park by the sea with unique activities in the jungle where visitors enjoy discovering the natural and cultural heritage of Mexico through its underground Rivers, wild land and water species, its cuisine and artistic expressions.