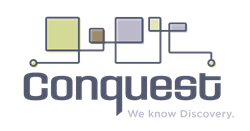 Dallas, Texas (PRWEB) June 23, 2014
Conquest eDiscovery, a full-service e-discovery consulting and technology company, announced today that it has become a Relativity Premium Hosting Partner. As a Premium Hosting Partner, Conquest will host Relativity at its secure data center in Dallas, Texas, providing a flexible, cost-effective solution for their e-discovery projects.
"Conquest's goal is to combine the best technology with experienced consultants and efficient workflows," notes Kat Meyer, President of Conquest. "Relativity helps us meet that goal by allowing us to add advanced analytics to our eDiscovery tool box."
As a fully featured e-discovery platform, Relativity includes a complete set of text analytics capabilities, including near-duplicate detection, email threading, and computer-assisted review. Relativity also allows users to build custom applications within the software to manage and search all types of case-related data and information. Conquest plans to offer customized software that will integrate with Relativity to enhance current client workflows.
"We're excited to welcome Conquest eDiscovery as a Relativity Premium Hosting Partner," said Andrew Sieja, President and CEO of kCura. "We look forward to helping them provide a great Relativity experience for their customers."
About Conquest eDiscovery
Conquest eDiscovery, LLC delivers litigation and e-discovery support tailored to each client. Conquest's licensed attorneys, case managers, paralegals, and technology professionals work seamlessly with client legal teams to provide:

Technical and e-discovery consultation and implementation of a client's in-house e-discovery program, including IT architecture, software recommendations, best practices, training, and workflows;
Professional consulting related to information management, document retention, discovery orders, 26(f) conferences, and 30(b)(6) depositions;
E-discovery support including data preservation, collection, processing, hosting, and production; and
Document review services.
For more information, visit http://www.conquested.com.
About kCura
Recognized as a "Leader" in Gartner's 2013 E-Discovery Magic Quadrant, kCura are the developers of the e-discovery software, Relativity. Relativity has more than 95,000 active users worldwide from organizations including the U.S. Department of Justice and all of the top 100 law firms in the United States. kCura helps corporations, law firms, and government agencies meet e-discovery challenges by installing Relativity on-premises and providing hosted, on-demand solutions through a global network of partners. kCura has been ranked the 100th fastest-growing technology company in North America on Deloitte's Technology Fast 500 and named one of Chicago's Top Workplaces by the Chicago Tribune. Please contact kCura at sales@kcura.com or visit http://www.kcura.com for more information.